Personalised birthday cake for £10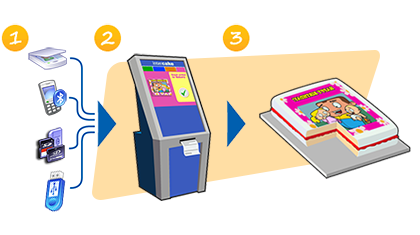 I wouldn't want to subject my cakes on my children's friends, but the average price of £40 for a decorated cake does seem a bit steep, and the standard Princess and Star Wars cakes that supermarkets sell don't cut it with my children anymore. Also after Marks and Spencer discontinued its checkerboard cake, I have been in cake idea misery.
So what is a poor mum to do? Learn to ice properly? I am an award winning baker after all 😉 (award won at a bloggers event for best cake!). Or head down to Asda for its new super bargain Design a Cake service?
Last month, I tried out the Design a Cake for the princely sum of £10 for a 22 portion cake. The cake was chocolate and all I had to do was:
Put together a picture of my subject
Bring a photo to the in-store kiosk on a memory stick, you can bring it on your phone too
Use the built-in scanner to upload a printed image
Add a border of my choice (optional)
Add some words (optional) as I had already incorporated some in my design I didn't bother
Select cake size and type
Give cake and receipt from the machine to a member of the bakery team
Wait 25 mins (the machine was playing up) and they will print design on rice paper and prepare your cake
There are two types of cake in terms of flavour, Raspberry or Chocolate sponge for £10.00, which serves 22 and is 24cm x 16cm; or a large Raspberry sponge at £16.00, which serves 40 and is 34cm x 21cm.
* Image courtesy of Intercake, the company that supplies Asda with the technology to make this all possible.