Good value birthday cake with the wow factor – Marks and Spencer Checkerboard cake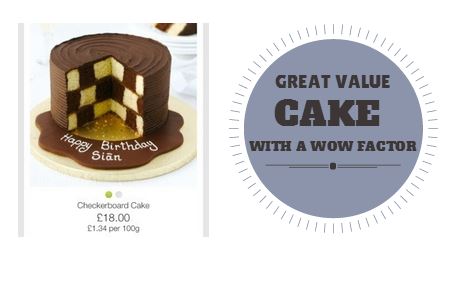 My hunt for a birthday cake that looked good but didn't cost lots ended up with this Marks and Spencer checkered chocolate cake that can be personalised and feeds 18!
My kids are getting too old for the themed birthday cakes sold in supermarkets, you know the Cars, Star Wars, Princess type cakes that come in around £7 – £10. So I thought this year I'd try something different.
I love this polka dot cake but haven't been able to find a local baker to make it and wouldn't risk trying to bake it myself as would no doubt need more than a few goes to perfect it.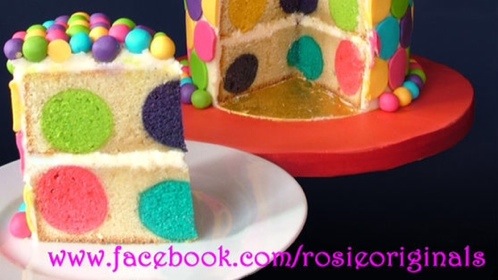 I asked the local cake maker if they could make it and the answer was no as they baked their sponges in large trays.
There are many local cake bakers who came up with lots of ideas on baking me personalised cakes but prices were around £45 – £65. With young children as the target for my cake, I wasn't willing to justify the spend.
Anyway, I was told that M&S do wedding cakes, so I thought they make also bake birthday cakes and low and behold I found and ordered this beauty – a Checkerboard Cake for £18. They have now discontinued this cake – boo hoo – updated 16/03/2015, but they have loads more fab cakes! Also, as this cake is no longer on sale, then maybe try Asda's personalised cake.
It looks like a plain chocolate cake on the outside, but when we cut into it, we surprised all guests who loved the wow factor and asked how the effect was achieved. It's 1.34 kg, so really good value and we picked it up from store in a lovely box which showed the cake off.
We got a personalised message put on, up to 40 characters, and could select the day it was to be picked up at store. We picked a Thursday, but the email to pick up came on the Friday, so allow an extra day for delivery.
I was so pleased with it. We had six days from our in-store pick up to eat the cake, and it was moist, had the wow factor I wanted and easily served our 18 young guests.