Bargain Hunter's glossary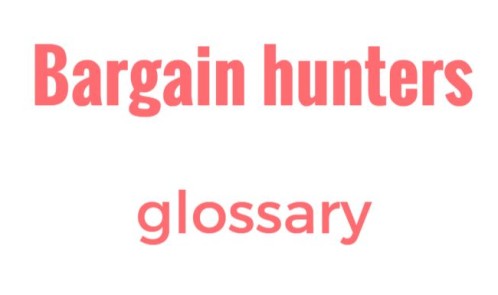 So whether you're new to bargain hunting or an old hand, here is some useful terminology.
Auction sites – eBay is the king here and you can pick up some real bargains here.
Bargain basements – the unwanted or faulty stock found at reduced prices.
Best before date – best before dates are about quality, not safety. When the date is passed, it doesn't mean that the food will be harmful, but it might begin to lose its flavour and texture. If you want to save money on items that have short dates or just out of date and still taste okay, check out Approved Food.
Cashback – many shops or sites will offer cashback deals as alternative to discounts in an attempt to lure shoppers in. These can be some fantastic deals to take advantage of, but don't be lured in for any old cashback! You can also get online cashback from TopCashBack and Quidco.
Clearance – Often the unwanted stock offered at a reduced cost. Perfect for a bargain!
Codes – when it comes to online discounts, there are generally two types – codes and deals. The former is a code that must be redeemed to activate a deal and save some money. There are a number of voucher code sites including www.VoucherCodesPro.co.uk
Comparison sites – from car insurance to energy (see energy comparison), these sites will help you to compare prices from several retailers/providers before you buy. As an example, check out my post about a supermarket comparison site.
Coupons – often the American phrase used for vouchers. Enable customers to save money on goods/services.
Cross Border Shopping – buying products from international online retailers is on the rise and you can save up to 40% off UK prices by cross border shopping. An site like www.myinternationalshopping.com helps you find international online retailers with free shipping to the UK, shop reviews, voucher codes and more.  There is also a comparison tool for package forwarders which is a useful service if you are buying items from multiple retailers or from a retailer which says it won't ship to the UK.
Deals – a general offer that is available to all and does not need to be redeemed. 20% off a selected range is an example of a deal.
Energy comparison
– with the UK's energy companies still increasing prices regularly, managing your home energy bills is no mean feat. Energy comparison specialists such as 
Love Energy Savings
 are dedicated to helping you to lower energy bills through their free & impartial service, saving your valuable cash for the more important things in life.
Flash sales – time limited sales, can be on and offline. SECRETSALES.com is an example of a flash sales website offering new sales every day with up to 30-70% off from hundreds of trusted designer and high-street brands. Tesco Clubcard has also just started to do flash sales.
Freebies – brands are always wanting to get you try out their products to encourage you to buy them at a later date, so there are plenty of free samples and free products to be had. Check out Latestfreestuff to find out what you can get for free.
Loyalty cards – most stores offer some sort of loyalty card these days; think Tesco's clubcard. Stores use these to track what you are spending money on so that they can target you with similar items. Be careful and don't feel the need to get every single loyalty card, but you can get some brilliant discounts through a loyalty card.
Pawnbrokers – a bargain hunter's paradise for finding secondhand jewellery at reduced prices compared to high street shops. Most pawnbrokers are happy to negotiate prices, or let you put down a deposit and then pay the rest off over an agreed period of time, for example www.handt.co.uk
Refer a friend schemes – schemes where companies give their loyal customers a discount or incentive if they refer a friend to the same service. For example, Plusnet's 'My Referrals' scheme gives customers a regular reduction on their monthly bill if they refer a friend, while Uber offers a £10 discount to anyone who recommends the service.
Reproduction designer furniture – save thousands on designer furniture by choosing high quality replica designs.
Scrap cars for money – the aim is to make the disposal of your unwanted vehicle an easy, simple and hassle free experience as well as providing the best scrap car value available. Webuscrapcars.co.uk is an online End of Life Vehicle (ELV) car recycling company which has depots nationwide.
Thrifty – often associated with thrift stores, being thrifty is the new cool. Thrifty means being economical with your money.
Use before dates – see best before dates above. Most food items  have best before dates on them, not use before dates. More often than not, foods are still good to go after their best before date, but be cautious around use by dates as they will be more often than not on fresh foods, and you don't want to eat off meat.
Vouchers – money saving discounts that can be redeemed online or in-store.
Voucher codes sites – digital libraries of coupons. Using either sites or apps you can find some great discounts and deals from leading retailers, restaurants and more throughout the country. It's really worth checking these out before going out for dinner or shopping as you can really save a lot of money.  www.VoucherCodesPro.co.uk
Waivers – if you can't get the discount you want, push and you can always get them to waiver additional fees, such as the booking fee.