London Shard views on a budget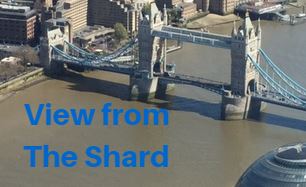 The London Shard is the tallest building in Europe, so I totally understand the allure of going to the top.
I tried my best to find discounted Shard tickets and recalled Attractiontix running an offer during February half term for £1 children tickets but haven't seen that offer again. The cheapest way to go up to the top was to buy tickets in advance at £24.95 per adult and £18.95 per child…they don't even do family tickets!
You are allocated a time slot and are shown to a high speed lift which takes you to the top. Anyway once up at the very top (72nd floor) it is amazing. You stand at the "broken bit" at the top and it really exciting to be so high, especially in a clear day. I saw lots of famous buildings very clearly..not sure what happens if it isn't clear.
However, if your budget won't stretch to tickets to the 72nd floor, then read on.
Now there are a couple of restaurants and bars on the 32nd floor that still offer pretty spectacular views of London….and they are free to enter..though you are expected to buy drinks or eat.
You have to pass a door man on the ground floor who asks if you have reservations or the purpose of your visit. I have been for lunch (don't bother) and also a drink, once with a reservation and once without. Once past the fairly aggressive door man, you have to go through security – expect a bag scan. I saw two young guys with trainers turned away, but later saw a middle aged woman wearing some in the bar!
The drinks aren't cheap and they give you an alcoholic drinks menu only! For a scrumptious non-alcoholic cocktail, it cost £9.50 and add £4.50 for a shot to make it into an alcoholic one. Frankly for the view, those drinks prices were worth it. Again I was lucky enough for a clear view when I went.
Now if you want to go higher but not pay for entry, there is the Sky Garden which is opposite the Shard. It's free to go up, but you have to book in advance…expect at least two weeks and your party cannot be bigger than six people. Expect to buy food or drink up there though…you can't bring your own. Check out this description and tell me you're not tempted: The designers opted for a series of richly planted terraces for Sky Garden and the planting is dominated by drought resistant Mediterranean and South African species. Individual plants have been chosen to work in harmony with the particular quality of light found under the roof canopy. Colour and flowers flourish all year round in the Sky Garden. Amongst the flowering plants are African Lily (Agapanthus), Red Hot Poker (Kniphofia) and Bird of Paradise (Strelitzia reginae) interspersed with fragrant herbs including French Lavender and Rosemary.
Anyway, here are some pics of views from the Shard – top and in the restaurant on the 32nd floor….obviously the higher up the more you can see….and you can see the Walkie Talkie building also where the SkyGarden is.