Mrs Bargain visits Home Bargains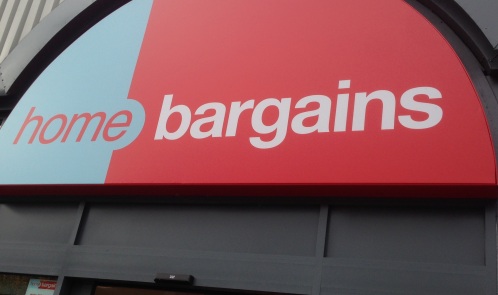 I visited Home Bargains for the first time this weekend. When I walked in it was a light and airy store as it's new. It reminded me a little of the 99p store I visited recently.
What did I like about it? Well some products that were well below their RRP and they were genuine RRPs as I buy some of the products already. I also liked the fact that you could get bigger items and better quality items as there is no upper price limit on their stock, unlike the pound stores.
For example, I got some of my favourite Glade Discreet air freshener refills for £1.49, and I have never seen them cheaper than £2 each. I also bought an Office Depot Acrylic clipboard for less than £1, when the cheapest I can get it elsewhere is £5.99!
I bought some Clean & Clear products for my teenager and though I didn't buy them, they have some pharmaceuticals at great prices. Branded piles cream for £2.79!!!
As well as branded goods, they actually have some nice novel items. I bought a £4.99 globe for my son and a great puzzle set for his friend. The projector clock came in at a very reasonable £4.99 and I loved their animal themed foot warmers for £3.99.
In time for Christmas, I think the store is worth a visit. Some branded toys were very well priced.
We spent just under £30 and came back with a couple of full bags. I would recommend taking a trip, especially for the branded discounts.
Here are some of the things I liked most. I have tried to include RRP info where I could.