Office shoes from 99p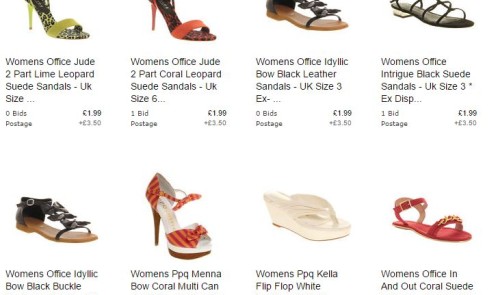 Yes, you read it right. Did you know that Office has an eBay store, where it sells ex-display and slightly defect shoes online? Well it does.
The shoes start at 99p, and a standard £3.50 postage charge, though they offer a combined shipping discout of up to 10 items, and international shipping from £5. They run both auctions and buy it now. For buy it now, you can shop full price, sale or ex-display.
Office has a listing called New with Defects, which means that it may be in one of the following categories:
Shop Soiled
Ex-Display
Minor Manufacturing Defect
General Scuffs and Scrapes
They provide an image of the exact shoe you are bidding on (and if there is more than one defect they provide an image of each) and a brief description of the defect.
The ranges are womens, mens and kids. I searched for wide fitting, but nothing came up, so guess you may need to try on a pair in the shop, but then again, you can post back returns…you can't take them to a store.