Stamptastic – another way to label kids things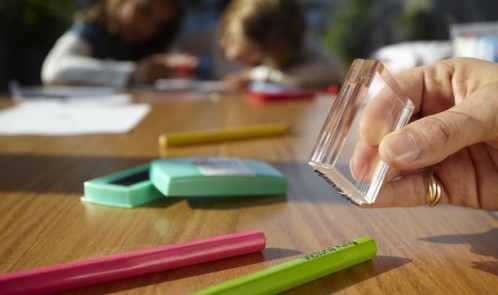 As you may know I can't be doing with sewing name labels in and am always on the lookout for ways to label kit. If I could have a homing device for every single belonging I would!
I have tried many products and in terms of durablity, I would say Stikins are very good, but even they disappear in the wash after a year or so…..they end up leaving a black "empty" label where the white name label used to be.
Now today I am going to introduce you to Stamptastic. Basically, it's a new way of labelling your clothes…no peeling, no ironing, no sewing….just stamp!!!!
I have got a couple of stamps, which are stuck onto good quality plastic blocks, which is fab as you can see which way up you're stamping. I also received an ink pad.
I haven't had the kit too long, but have found that stamping on white labels or coloured material is fine as the ink is black…black labels are however a challenge. The ink hasn't run or faded after several washes, so happy days.
I have also stamped objects, so water bottles and bags…all seems fine. Strangley on black metal water bottles, you can actually see the ink, but have to look hard….great for secret marking, which is visible if you know where to look.
A major advantage of the Stamptastic approach is speed….it's the fastest labelling method I have found to date. Also, it's fun. The kids are ready to stamp their own kit…so saving me time and effort and making them take some more responsibility for their own things.
My plan for the stamps is to use them as my visible stamp (where possible) as you can't remove them….you can cover it, but it's not going anywhere. I will be backing them up with the stikins somewhere hidden away. Both my kids are now in secondary and kit gets lost so quickly, hence my double labeling.
In terms of longevity, there is a testimonial on Stamptastic's website that says it is still going after four years….so that's positive and would justify the price:
1 standard name stamp at £10 and ink pad at £12.