Cheapest and most effective way to label school uniform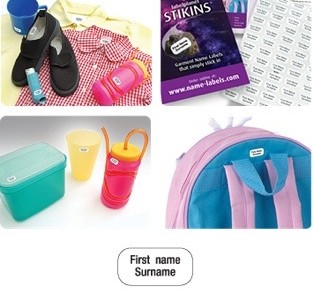 Life's too short to sew or iron on labels, so I save my time and money and use Stikins.
For the last 10 years, I have been responsible for labeling shirts, shorts, bags, lunch boxes, shoes and more. I have had labels melt on my iron when the glue in them starts to deteriorate, been embarrassed by my lack of embroidery skills and had "smudged" or writing that's not visible when using pens on dark items, small labels or uneven surfaces.
I have been using Stikins now for four months. They are from £6 for 30 labels or £12.50 for 120 labels and if properly stored last two years. Compare that to my iron on labels which have glue that has deteriorated in less than a school year already. At 30 mm x 15 mm in size, they fit on clothes labels easily.
They've been through constant washing and obviously wear and tear and not one Stikin has budged, while the iron in tapes on the same garments are already peeling at the sides. As well as clothes, I use them on shoes, kit bags and Tupperware etc and even the dishwasher doesn't remove them.
Even labelled uniform "gets lost" so I have really tried to peel the Stikins off, but haven't managed as they are really thin so hard to catch an edge. Though to be sure that no one else does manage to do that, I put one Stikin in a visible place and one hidden. If you want to save even more money, maybe a thin pointed permanent marker (50 – 80 p at Asda) could be used for the second hidden labelling, if you can find somewhere that the writing will be visible.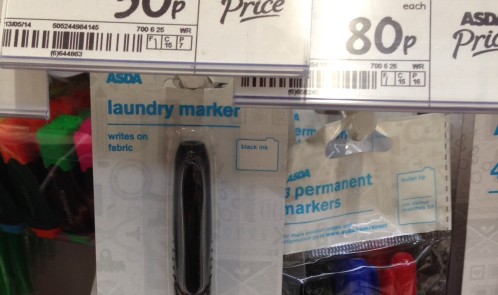 Stikins are really quick to stick and come on a pre-labelled sheet. You just peel them off as you need them. Here's the blurb on them:
"Stikins are the result of a breakthrough in the adhesive and label material manufacturing industry. The adhesive bond is washer-proof, and the unique vinyl material is so soft and pliable that it won't cause any irritation or discomfort. The size of the label (30mm by 15mm) is also a perfect size for labelling all sorts of other school items, including lunch boxes, shoes and bags, and personal items such as books and stationery."
A little trick I have learned if you have a couple of children and want to save more money is put one initial first, then a surname, then another initial. If the first names are short, you could try to put the name in too. When labeling, just chop off the wrong initial/name – see below on how it looks when ordering.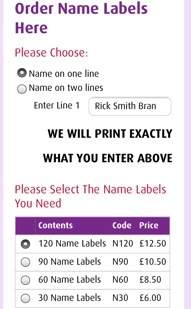 Featured image is from the Stikins website.