Lower cost stick in labels for clothes and shoes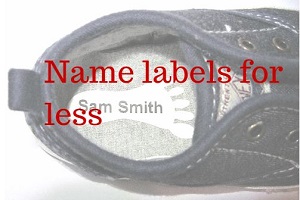 The kids are growing fast and I need to buy (grrrrr) more clothes and accordingly label more clothes.
I have been a Stikins' fan for a while, but am always on the look out for alternative products that provide the same quality but at a lower price….so to my delight I have found a company called Labels 4 Uniforms.
The company sells iron-on name and stick-on name labels. I have tried the iron-on and stick-on and even after a few washes (hot for white shirts, and high spin for other clothes) the labels are staying put. I also used them for drinks bottles and their bags.
The labels themselves are white with black writing and the company offers fun foot shaped label for shoes. They arrived within two days of order. I used my neighbour's kids names as it's time to convert their mum from all that sewing to stick in labels. I used six letters for the top row and six and seven for the bottom row – double barrelled don't you know!
One of the main and most interesting differences with these labels and Stikins is price, oh my favourite topic, but the lower price doesn't seem to have any negative impact on quality. Labels 4 Uniforms offers free U.K. Mainland postage too.
How do prices compare for the stick in labels
20 Stikins £4.39
90 Stikins £10.50
Now the prices on Labels 4 Uniforms, compared much more favourably:
Here's the science bit
Iron-On Labels comply with BS5742. Stick-On labels have a permanent ink for the lettering and adhesive. Shoe labels are a great fun feet design for children's shoes and are protected with a label protector.
I really do urge you to ditch the needle and thread and either stick in or iron on labels and at the low prices I have just found, I mean 25 items labelled for less than a fancy coffee, what are you waiting for?