Fluid summer sandals from M&M Direct – only £4.99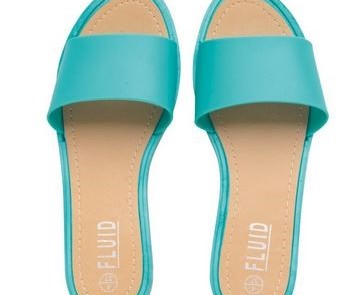 Now that the summer is finally here and the sun is starting to shine, I have started looking at cute sandals to enjoy the next few months of hot weather in. Whether you are going on holiday, commuting to and from work, trawling the shops for summer sales or just relaxing in the garden, a good pair of sandals – or lightweight slip-on shoes – are a must now that the sunshine has appeared.
I tend to only buy one or two pairs of sandals every summer – just for use that one season, as I don't expect bargain summer sandals to last for five years' worth of summers. So these gorgeous Fluid slip-on summer sandals from M&M Direct are an absolute steal as they only cost £4.99 a pair. They come in pretty turquoise and coral colours, so you can mix and match them with your summer outfits.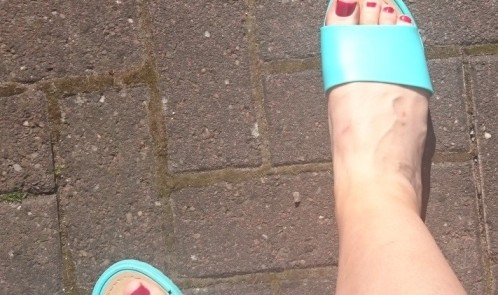 I went for the turquoise blue ones and quite frankly they are soooo comfortable that I wear them everywhere, with everything. Cheap they may be, but they are also fairly hard-wearing as I've been walking around in this one pair for several weeks now and they still show no signs of damage or erosion on the soles.
Made from synthetic material, their biggest benefit is that they are anti-slippage thanks to the inner sole being rubber rather than a shiny, slippy surface. This is a big deal for me as I hate sliding around when my feet get warm in, for example, leather sandals.
Open-toed, these sandals give your feet room to breath and their ridged soles mean you can walk on any surface with ease. I walked through a marble-floored lobby in them and they gripped easily, even though the flooring was polished and shiny.
I am normally a size 7 but, as I have wide feet, I went for a size 8 and they fit perfectly. The strap is not tight at all so doesn't need to be worn in or stretched through wear first.
My only complaint about these sandals is ordering them online, as with the £4.99 cost for the sandals themselves there is also a standard delivery charge on items – which takes 3-5 days – of £3.99. So, for these £4.99 sandals, you need to pay £8.98 – which is not such a good price. However, M&M Direct does have a wide range of sandals from the likes of Firetrap and Hush Puppy and, right now, you can claim free delivery on orders over £30 by entering the code TBL9.
Visit http://www.mandmdirect.com/ to see which summer sandals take your fancy.