What to do with things you no longer want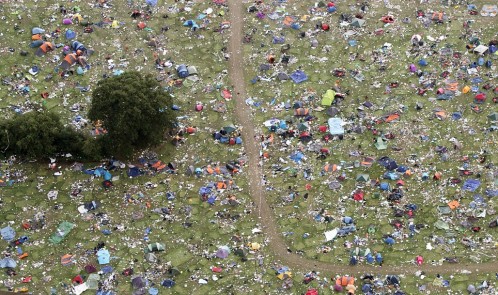 Recent images of the aftermath of the Reading Festival (see above) left me really exasperated. Why on earth would you do that? Have tents, bags, sleeping mats, clothes, boots, electronics become so cheap and unnecessary that you can't be bothered to take them home with you?
Instead they are left for charities to salvage and send to Calais or other places that need them.
Waste is something that drives me CRAZY. Maybe it's the bargain hunter in me that I can't bare to throw anything away. That's not to say that I hoard things, not at all, but if I can find a home for anything I own that I no longer want, I will do my best and this is how:
1. eBay – this month I have eBayed old fins, snorkels, Pokemon cards, a coat, duvet sets and a drum book. You can also try Shpock if you've got more designer things to get rid of.
2. Charity shops – I give all old books to charity, ladies clothes, bags and shoes to my local charity shops.
3. Friends and family – we buy some really nice quality clothes for our kids and try where possible to hand them down to friends who also have children that could benefit from them.
4. School fayres – I save a lot of toys and kids books for the summer and Xmas events.
5. School uniform shops – we have a special uniform sales at school and even an old uniform shop too.
6. Send them abroad directly to the recipient – we have virtually a small village in India that wear our kids clothes. My neighbour's dad takes them with him when he goes. They are not quite good enough for our friends' kids but still have plenty of life left in them.
7. Food banks or harvest festival – with food that I buy and then wonder why….I hand it over, of course it still has to be in date.
8. Facebook buy and sell – I have given stuff to a home for mothers and babies – so a travel cot, bouncer and more…all through the local buy and sell boards on Facebook.
Image from The Daily Mail.