Make money by hiring out your car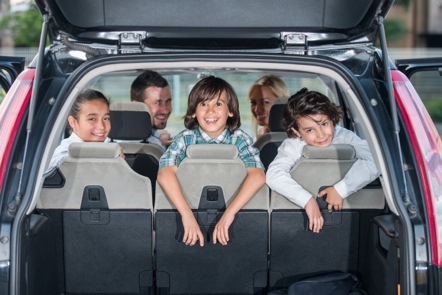 As you may know, I rent out my drive using Parkatmyhouse. In the last nine months, I have made £501, and that's not full occupancy either.
So when I heard about a car lending service I had to take a look, especially as my car has only done 20,000 miles in seven years so stays idle much of the time.
easyCar Club, from the guy behind easyJet was launched earlier this month.
The service provides a way to make money from your car when not in use, and also, gives a cheaper alternative to renting a car through Hertz or the like. Londoners trialled easyCar club for the past year, and found that they made an average of £1,800 per year (£150 per month), up to £3,500 per year!
I definitely like the idea of sharing and renting rather than owning and buying. I must admit my car often sits unused on the driveway. By renting out my car, I can make money from it when I don't use it.
easyCar Club does all the hard work. They provide the insurance for when the car is being rented, complete checks on all the owners and drivers, and even give owners free RAC breakdown cover for the year (even when the car isn't being rented!).
Some facts easyCar Club has shared with me:
• The UK's only peer-to-peer car rental service, helping owners make money by renting out their cars, and drivers save money through cheaper, more convenient local car
• Car owners can earn more than £3,500 per year for each car listed, and an average of £1,800 per year (or £150 per month)
• Car owners stay in control by setting the prices they charge for use of their car, selecting when it is available for hire, and accepting or rejecting offers from drivers who want to hire their car. Members rate each other after each car rental.
• Partnership with Zenith Insurance offers car owners complete peace-of-mind. The owner's insurance and no claims discount are unaffected, as drivers are comprehensively insured by easyCar Club for the full duration of their rental. There is no need for owners to advise their insurance company each time their car is hired.
• Drivers, once accepted in to the easyCar Club, can search for and drive cars in their local area without any need for further admin or paperwork. All Drivers are vetted carefully when they initially register.
• Insurance databases and driving records are checked upon enrolment to ensure that only responsible drivers join the Club. Drivers must be over 25 and under 70 years old, must have been living in the UK for at least 3 years, must have a valid UK/EU driving license and have been driving for a minimum 12 months. They must also have fewer than six speeding points on their licence and must have no driving convictions.
• Feedback system allows all car owners to rate and review the members who drive their cars, and vice versa
• Drivers simply choose the car they want to hire for the dates they want, book and pay for the car online, then collect the keys at the allotted time (either from the owner themselves or a secure Key Safe)
• All cars registered with easyCar Club receive complimentary RAC roadside assistance and recovery cover from their first rental, and this cover then applies to the car even when it isn't being hired out.