Gardening on a budget – my 11 top tips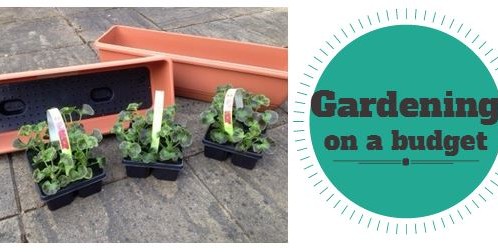 Gardening needn't be expensive. Whether you have a window box or a massive garden, now's the time to prepare for a summer full of blooms and fruit. I have a lawn, shrubs, flower beds and potted plants, but must admit I don't actually like gardening, but love pretty flowers, so here are some of my tips about how I get best out of my space:
Get to know older people
Seriously this has got me great cuttings, advice, help with pruning properly, plant names and more. I have older neighbours and walk past senior citizens often on my street who are gardening. Check out the state of their garden and then start asking for advice…and seeds, cuttings etc. I have found my neighbour's to be so helpful and their help is free.
Grow from seed
A packet if seeds is much cheaper than buying plants. I keep my seed trays and use them to grow seeds inside and then move into the garden when they are big enough. They germinate much quicker than expected. I have grown tomatoes from seed successfully most years. There are loads of cheap seed offers, I'd try Aldi and Poundland for starters.
Go for perennials
I pick flowers that will bloom again next year, from daffodils to marigolds, no need to replant every year.
Use pots
If you hate weeding or you want to move your displays around when they are at their best, then pots are great. I picked up some troughs last year at Homebase during one of their 15% off weekends. This year I got a couple of self-watering troughs from Aldi. They were £3.99 each. I also picked up soil for £1.99 for 40 liters from Aldi.
Try Gardeningexpress on Groupon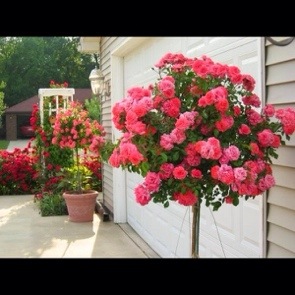 I got these lovely rose trees for half price through Groupon. They cost £74.99 for two normally! I don't know if Gardening Express will run the promo again though, but it's worth asking, as they regularly have offers on Groupon. A few of the flowers had fallen off during carriage, but that's to be expected, and they are starting to bloom for the second year running now.
Don't skimp on quality plants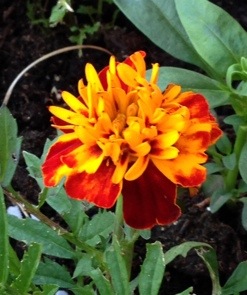 I have bought cheap £1 roses and I basically paid £1 for a stick as the plant never progressed. Also bulbs from discount stores are not recommended. Flowers that I have grown from bulbs and have been cheap and good quality are from Sainsburys. Some star buys for me recently include, 18 marigolds (see pic) from Morrisons (two batches of six for £3), 16 geraniums from Aldi for £7.16 (£1.79 for four).
Get swapping
There are quite a few websites that help gardener a to swap their unwanted plants for others. Sites include: www.gardenswapshop.co.uk, www.greenplantswap.co.uk and www.chorltonplantswap.org.uk.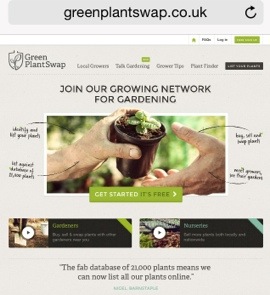 Pick up the basics at Poundland
Netting, potato sacks, solar lights, gardening gloves and gnomes (yes really ;-)) are all things I have picked up at Poundland for the garden.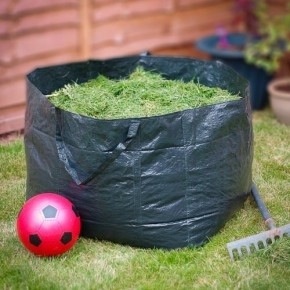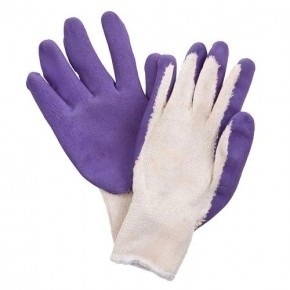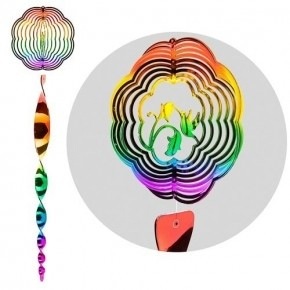 Do it yourself
We just got a quote for £500 to make some improvements to our garden. We have decided instead to do it ourselves. Of course, it is going to take us a few weekends, but I would rather keep that money for something else. If you do need help though, ask around. Our neighbour has a gardener for £70 a day. She found him through a friend who runs a B&B and know loads of local handymen.
Washing up liquid kills greenflies
My roses are fighting a greenfly invasion, so I have done some research and found that a squirt of washing up liquid in water sprayed on the beasties is keeping them away.
Plastic vs terracota
I have one terracot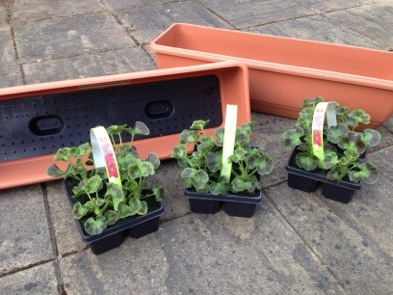 a strawberry planter and every other pot is plastic. It's cheaper and unless you are very close up, who can tell the difference? These are the much cheaper than terracota troughs I mentioned above and the geraniums from Aldi at £1.79 for four.