New app offering real-time discounts at London restaurants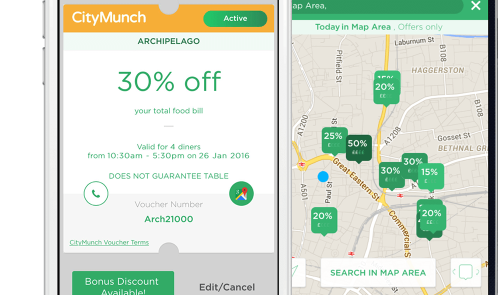 London's foodies can cut their bills at more than 100 restaurants across the city with CityMunch. The app allows restaurants to connect with Londoners in real-time, instantly publishing simple, time-limited discount offers to customers' smartphones.
CityMunch's deals are designed to be straightforward: just a percentage off of the food bill for the entire table, no matter how many people are eating. There are no complicated terms and conditions to wade through and no upfront cost. Diners simply check the app for a nearby deal, reserve a voucher, arrive during the offer's availability period and show their phone to staff.
The app's time-specific deals benefit both parties – diners save money and restaurants fill seats when they need to. The new app that allows diners to claim real-time discounts of up to 50% off their restaurant bill, has just launched in London.
In trial for the last three months, CityMunch has already signed up more than 100 restaurants across the city and received more than 1,800 user downloads. Sign-ups include high-end independent restaurants such as The Chancery in the City, Covent Garden's Le Garrick and Fitzrovia's House of Ho. CityMunch can be downloaded for free on iOS and Android here:
https://itunes.apple.com/gb/app/citymunch/id1078980559?mt=8
https://play.google.com/store/apps/details?id=com.CityMunch.app#details-reviews