The Shard is 25% off till end of August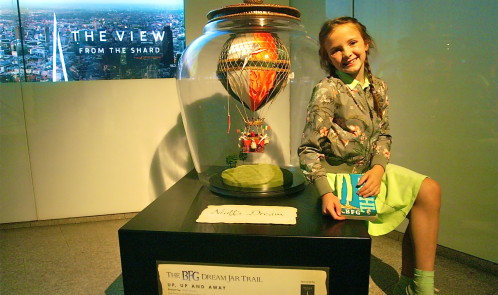 I love The Shard in London and although you can go up to the 30 somethingth floor for "free" in return for an extornionately priced drink, I do believe that it's worth going all the way. If budget is stretched though, try the Sky Garden opposite for "free" too, though you have to book in advance.
The View from The Shard, the viewing platform at the top of Western Europe's tallest building, is offering visitors 25% discount off its standard ticket price until the end of August.
And if you are a The BFG fan, The View from The Shard is also home to one of The BFG Dream Jars which can be found all over London and the country this summer. 50 jars have been designed by celebrities and placed in prominent locations to create The BFG Dream Jar Trail. Until the end of August visitors to the attraction will discover a BFG Dream Jar created by One Direction star Niall Horan – don't scream all at once.
Located 800ft above the city's skyline, The View from The Shard gives everyone the chance to experience giant like views. Towering above London, the open-air Skydeck on Level 72 allows guests to see all of the capital's famous landmarks as well as views stretching up to 40 miles (64km) away on a clear day –that's even further than one of The BFG's "gigantuous" strides!
In conjunction with London & Partners, those visiting Niall's BFG Dream Jar can take advantage of the special offer, available on adult and children's tickets from the 9th July until the 31st August. Tickets are available online with the code BFG2016 www.theviewfromtheshard.com/en/ or by quoting the code in person at the attraction's ticket desk.
At the end of the summer the BFG Dream Jars will be sold via an online auction to raise money for Save the Children, to protect children's dreams. For more information on the trail please visit visitlondon.com/bfg