The 6 types of holidays to experience at least once in your life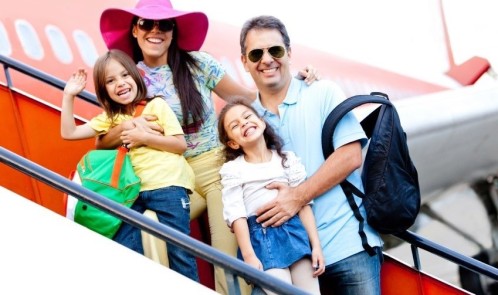 I save my pennies so that I can holiday somewhere nice. In the last year, we've been to Spain and Mauritius. I believe that with some careful planning, a great holiday is achievable for us all, and a getaway can be beneficial for both your mental and physical health.
However, rather than settling for the same old holiday every year, visit a new destination to enjoy a completely different experience.
To ensure you experience many unique getaways throughout the years, which will allow you to look back on life with a big smile on your face, take a look at the six types of holidays to enjoy at least once in your life.
A Luxurious Family Beach Holiday
Almost everyone will need to immerse themselves in a little peace and relaxation at some point in their lives. If you are feeling tired or stressed, you owe it to yourself to book a relaxing beach holiday abroad with your partner or the whole clan.
Not only will it allow you to soak up essential vitamin D, but you will be able to lounge on a stunning beach, take a refreshing dip in turquoise waters, and build sand castles with your children under the sunshine.
If peace and quiet sounds like absolute heaven, avoid loud, hectic hotels that will increase your stress levels and consider luxurious villa holidays at a relaxing destination, such as the:
You're bound to feel like a brand-new person once you return home following a luxury beach getaway in the summer sun. With a villa remember that you can control your cooking, you often get your own pool and can have the family sharing the same space.
A Cultural Trip
If, however, you want to experience a new culture, explore historical artefacts and feel inspired by archaeological wonders, book a cultural trip to a truly unique destination. For example, you are unlikely to forget the fragrant aroma of authentic Indian cuisine in New Delhi or the jaw-dropping temples in Phuket, Thailand.
Once you arrive, you shouldn't be afraid to talk to the locals to learn more about a culture or to try some of a nation's weird and/or wonderful delicacies, no matter how scary or unusual they might seem at first. The chances are you'll discover a delicious dish you'll happily try to replicate once you return home.
Cultural destinations to add onto your bucket list could include:
Rome, Italy
Amsterdam, Netherlands
Tokyo, Japan
Krakow, Poland
Prague, Czech Republic
For cheap accommodation, consider AirBNB.
A Solo Getaway
A solo getaway allows you to jet off any destination your heart desires and experience dishes and activities you have always wanted to try. Also, as you will not have a travel companion, you will be more inclined to talk to locals and potentially make some new friends from different walks of life along the way.
While solo travelling and raising children often do not go hand-in-hand, you could potentially book a trusted babysitter to enjoy a solo break at home or abroad for a weekend or more. The freedom of solo travel could provide you with greater mental clarity, so you will return home feeling relaxed and rejuvenated.
If you want some time alone, but don't want to be completely by yourself, why not try a TravelEyes holiday. You share your sight with blind and partially sighted travel companions and get up to 50% off your holiday.
A Fun Holiday with Friends
To develop a greater bond with your friends, you should enjoy a fun holiday together at least once. Not only will you return home with an endless array of memories and stories you will all be talking about for many years to come, but you will also get to know your closest pals on a more personal level. It also doesn't matter how old you are, as you can enjoy a fun, relaxing break with your close-knit group at any age.
Consider the following destinations for a luxury holiday with your best friends:
Ibiza, Spain
Crete, Greece
Menorca, Spain
Algarve, Portugal
A demanding career and a busy family life can create an unwanted distance between you and your friends. A group holiday at a beautiful destination can, however, bring you all together and will allow each of you to take a much-needed break from your everyday lives.
A Fun-Filled Break for Children
Give your children the gift of superb memories by booking a fun-filled holiday.
For example, it would be hard to forget a trip to Orlando, Florida, which is full to the brim with amazing attractions, such as:
Walt Disney World Resort
Magic Kingdom Park
Epcot
Universal Studios Florida
SeaWorld Orlando
Disney's Animal Kingdom Theme Park
Disney's Hollywood Studios
It's bound to be at the top of their travel bucket list, so you can guarantee the kids will be jumping for joy the moment they learn they're off to the Sunshine State.
Of course, it's not only Orlando that offers exceptional family-friendly attractions that can trigger their excitement and imagination. For example, Lapland will provide an opportunity for your kids to meet Santa at a real-life winter wonderland while enjoying skiing, snowboarding and the Northern Lights.
However, don't overlook Disneyland Paris, which offers an incredible theme park, family-friendly golf courses, and a Disney village.
My friend at EmmaDrew loves Florida and has lots of information on how to save money on your trip.
An Adventure Holiday
A break abroad doesn't necessarily need to be relaxing. In fact, there are many destinations and activities that can make you work harder than you ever have before, putting your mental and physical fitness to the test.
For example, if you're looking for an unforgettable adventure, embark on a trek of the Inca Trail to Machu Picchu, which is a 15th century citadel that is 2,430 metres above sea level.
However, you don't need to travel overseas to embark on an epic adventure, as the UK offers many challenging trails that will push you to your limits. For instance, take on the Three Peaks Challenge, which will require you to climb the three highest peaks in Scotland, England and Wales.
If, however, you're looking for a challenge that gets your blood pumping and your adrenaline racing, look no further than São Miguel in the Azores, which will allow you to go cliff diving, rock climbing, whale watching, and canyoning.
If you like skiing, check out my post on cutting the cost of skiing.