How to make money from your car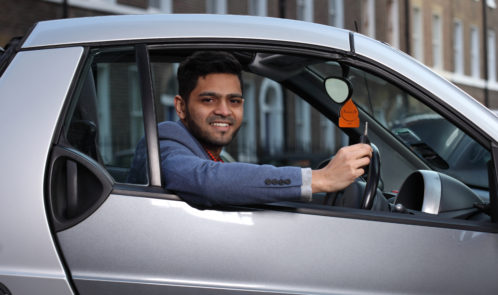 So I am a big fan of the shared economy, where you can make money from renting out things you own, think JustPark or AirBNB.
Now can that be done with a car? I asked Richard Laughton CEO of easyCar Club to share some ideas on how to make money from your car.
Most of us own or need access to a car, but is your car working hard enough for you? A huge 96% percent of the time cars are sitting unused, providing great potential to make some extra cash when you're not driving it. A car can be considered a 'hidden asset', capable of bringing in revenue in a number of ways. Here are five ways that could help you earn some extra cash.
Using your car for ads:
One easy way to make money from your car if you are a regular driver is by using it as a mobile billboard. A few companies offer to lease an ad space on your car in exchange for cash to get their word out there. One catch is that these companies generally favour newer models and those that are constantly on the road or that are parked in places of interest for the advertiser. The money you will make will vary by company, car type, where you live and number of stickers covering your vehicle, but the amount you make could exceed £200 per month.
Putting your car on TV or in a film:
Make some extra money by connecting with a company that leases period vehicles to television and movies. In addition, some specialist agencies will even hire your car for music videos and fashion spreads. The companies who will lease your car will retain a commission from a daily fee of several hundred pounds, but in return will take care of logistics and marketing.
Renting your car:
If you have your car sitting in your driveway unused and depreciating, why not rent it out and earn some money? Sharing sites like ours allow car owners to rent out their vehicle if it meets certain value and quality conditions. You could make over £1,500 per year depending on how often you rent it out. Members can search for and book cars in their area and owners can set their own rental rates. Just make sure you choose a company who will take care of the insurance for you, as this will protect your underlying annual insurance.
Renting a seat in your car
Driving alone? You could share the cost of your journey by sharing the ride with someone else. Although you can't profit from this activity unless you're a licensed taxi driver, you can offset a lot of fuel and running costs – and have a more enjoyable journey. This can also be a nice way of reducing overall emissions.
Become a courier:
If you have long commutes and are regularly on the road, why not earn some extra cash by becoming a courier? Many companies pair up drivers and other travellers with individuals who need items delivered. Choose a provider (there are quite a few popping up), set up a profile and list your journey. The website will then find individuals who need things either picked up or dropped off while you are en-route.
These various options can help you cut costs and earn some cash, making the most of otherwise underused vehicles. Make sure you do your research beforehand and see which options is most convenient and right for you.