TK Maxx definitely won't max out your credit card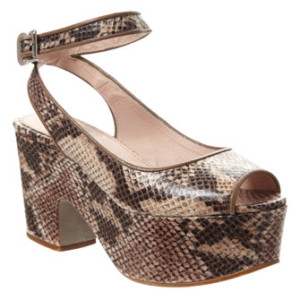 What do you do when it is not sale season and you feel the need to shop, but without spending loads on a new outfit? Discount clothing stores such as TK Maxx are always a good bet to grab a fashion bargain, whatever time of year it is.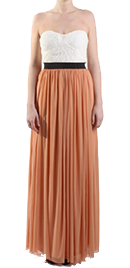 The TK Maxx discount store in particular is a favourite for fashion and price-savvy shoppers thanks to it offering big, designer labels and one-off items at up to 60 per cent discount. So, new season designer staples such as a Michael Kors studded jumper, normally priced from £145, cost you more like £87 while classic pieces – nay essentials – like Dolce & Gabbana's Pony Skin Tote Bag, costing upwards of £1,000 brand new, can be snapped up from as little as £600, saving over £400.
Another unique selling point of TK Maxx is that the stock it has on offer is changed on a daily basis, so the range you look through on Monday can be entirely different from what's available by the end of the week. Also, the designer brands on sale at TK Maxx range from this year's excess stock – so you can pick up something that's only just come off the catwalks – to timeless pieces from a few seasons ago, by labels including top designers such as Alexander McQueen and high street favourites like All Saints and FCUK; all at massively discounted prices.
How low can you go?
Gong one step further than just offering you the bargain of a lifetime – or rather this season since all fashion-conscious shoppers are always on the lookout for the next big thing – TK Maxx's clearance sections are total bargain bonanzas…which may be why celebrities such as Jodie Kidd are firm advocates of TK Maxx, and even royals like the Duchess of Cambridge and Prince Harry have declared themselves fans of the store.
To find real gems in the TK Maxx sales sections, simply stand on your tippy toes and look around for the red 'sale' rails, where all of the products which have been reduced by further than TK Maxx's standard 60 per cent off are lined up and ready for you to dive into.
I found the most beautiful Pisarro Nights cream, three-tiered beaded dress on such a 'sale' rail, and just in time for my best friend's wedding! From the good old US of A, this stunning dress would normally have cost me $150, or £98, had I purchased it direct. TK Maxx's original price for it was £50 before this was reduced in the sale to £39.99. You may think that was bargain enough for me but oh no, I knew there was still some wiggle room to go even lower…and this is where die hard bargain hunters like me really come into their own.
I looked over the dress after trying it on and discovered that some of the beads on the back of the dress were missing. Not noticeable if I were running for the bus or dancing at the wedding reception, and certainly not enough to dissuade me from buying this gorgeous dress, but something worth mentioning to the cashier when I took my prospective purchase up to the counter. I simply asked the sales assistant whether I could have a further discount off the sale price, to compensate me for having to replace the missing beads and, after a quick chat with the manager, I walked away with the dress for £36 – a further 10% off the original (already-discounted) sale price, making my grand savings on TK Maxx's original price £14 and a fantastic £62 off the price I'd have paid had I bought it direct from Pisarro Nights.
One word of warning re: the sales rails though…lots of stock ends up on the floor when shoppers' elbows are put into use to move other prospective buyers out of the way. So, in addition to being rugby-esque in your tenacity to get to the item(s) you want, you may also have to face the fact that any preferred purchase that is silk or delicate might need to be dry cleaned before you can wear it.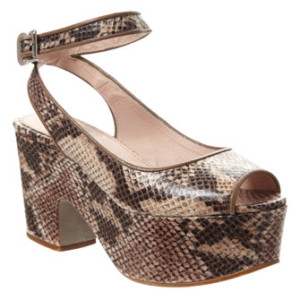 Perfect bargains to enjoy the summer in
If you can't get to a TXMaxx store, there are some amazing, and great value, bargains on the online sale rails. In a recent search, I found the cute maxi dress above, direct from French clothing label Danity, which is now only £26, these Kurt Geiger peep toe wedges, now an amazing £16 reduced from their RRP price of £140, and Seventh Wonderland cut-out bathing suits, which normally cost £220 but are now on offer from just £16.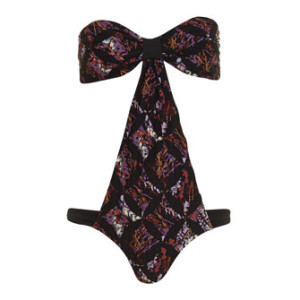 Images from the TK Maxx website.