Tips for grabbing a charity shop bargain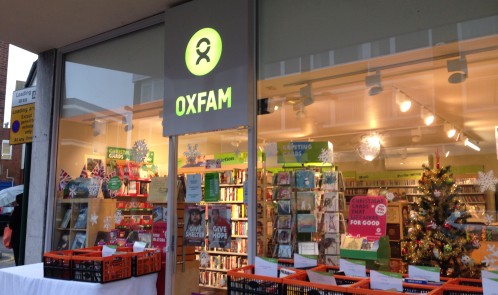 Now I haven't shopped in a charity shop for a few years. The thought of another mum seeing me wearing their cast offs fills me with dread.
When I was younger of course, the odd cardy, suede jacket or the like were cooler if I said I had bought them from the Rag Market in Brum or just a "little charity shop".
Anyway, I do have a friend (no it's not me really!) and she doesn't live in my town but works here, so I asked her to tell me how to get the most out if charity shops and here goes below.
There has been a massive surge in the number of charity shops in Britain over the past five years and this is, in part, due to the fact that charity shops pay only a fraction of the overheads and business rates of traditional high street retailers. This gives them a considerable financial advantage which, when combined with most staff volunteering for nothing and the ongoing supply of free stock, means charity shops are not just here to stay but on the up. So, whether you are a charity shop fan or not, here are my five top tops on how to charity shop successfully:
Visit regularly
Monday or Tuesday are the best days to visit your local charity shop(s) for bargains as most donations are handed in or collected over the weekend, so there's always something new to find at the start of each week.
Befriend the volunteers
They work there so always know what's due to come in or already sitting in the back waiting to go out on a rail. If they know you and know what you're most likely to want or like then they can direct you to gems when you pop in. They will even sometimes put things aside for you so you can always be sure to find a gem whenever you visit that no-one else has had a chance to look at yet.
The best months for charity shop bargains
January is one of the best months to buy things for yourself as most people give away unwanted presents to charity shops or use that time for a post-Christmas clear out. However, some charity shops run donation drives like the British Heart Foundation's annual month-long Bag-athon, which is launched each September. The Bag-athon drive encourages people to donate goods – everything from baby toys, clothing and jewellery to kitchenware and bric-a-brac – to their local BHF charity shops and, being a frequent visitor, I have seen just how fantastic a selection of items BHF has after this drive – especially in locations where residents are a little more affluent, such as Solihull or Sutton Coldfield.
So why does BHF only have this drive in September and not quarterly? Well for one, most charity shop frequenters – like me – start our Christmas shopping that month. And yes, I often buy items from charity shops to give over to loved ones during the festive period. Take for example last Christmas, I found a stunning Karen Millen teal peacock patterned shift dress – new with tags that someone had donated because it was never worn – for my sister and it only cost me £12.
Compare that price to the £110 plus that you would have to pay for this if you went to Karen Millen and you've already saved around 90 per cent. But, that isn't the only benefit of buying from charity shops – whether it's for Christmas and birthday presents or just hunting for a cheap hidden gem to treat yourself. Another great thing about charity shops is that you can often find one-off unique and vintage items too – as charity shops are constantly being donated things following house sales, after the turn of a new fashion season and in people's estates. You can walk into a charity shop and find things like 1960's dresses and even striped coats from as far back as the 1920's – priceless!
Give and take generously
If you value your local charity shop and often find hidden gems in it then do try to fill up a bag of your own unwanted items to donate at least once a quarter or even every six months. Not only are you restocking the charity shop, but your tat may become another visitor's hidden treasure. For example, alongside regulars like me seeking a bargain, students are also weekly visitors as they look for kitchenware and clothing at heavily discounted prices while trying to manage their limited student funds.
Not only do charity shop visits save students money, they can also help them to achieve a stand-out look that no-one else on their course has. I often raided charity shops during my student days and you'd be surprised at the stuff you can find amongst the tat. My favourites were a Hobbs coat for just £10 – essential when winter is drawing in – and a pair of Nine West shoes for only £5.99! Many times when I've grabbed a total bargain I do think that the dear ladies and gents who work in charity shops don't always know the real value of the donated items they're selling for so little, but that only works to our advantage. And, for those of you who simply must try an item on before buying it, the vast majority of charity shops now have a changing room of some sort towards the back of the shop. Although it does have to be said that this 'changing room' is sometimes a curtained-off section, I have a handy tip to preserve your dignity. I always recommend charity shopping in leggings and a vest top so you can try items on over the top and don't have to get down to your undies.
To conclude, I don't see the point in persuading anyone who doesn't already visit charity shops to go against their nature and start now. Instead, for all you savvy charity shoppers – and converts – I have listed in order my favourite charity shops and would welcome hearing what you think of each:
British Heart Foundation – I adore this charity shop because it always hangs clothing in individual sections e.g. shoes, t-shirts, dresses, trousers, and in size order, which makes looking through the rails so much easier. The prices are superb and their stock is constantly rotated so you can usually find 'brand new' items from week to week, hence should visit regularly to take best advantage.
Scope – great size and clothing range that is, as with BHF charity shops, in size order and separated out into individual sections. Also very well priced and not too expensive.
Acorns – hit and miss as the majority of items in these charity shops are more kitchenware and large-sized clothing, but it makes up for this by being one of the cheapest on the price front.
Marie Curie Cancer Care – has an excellent selection of goods but is let down by the fact that they are all displayed in a disorganised, mish-mash bundle way. Basically, their clothing rails are in colour order rather than size order so you really have to root around to find what you might like in your size. Ok prices but it depends on what you're buying as dresses – second hand though they are – can cost up to £10….Mary Portas has a lot to answer for!
Debra – small selection of clothing but always has plenty of furniture and homeware at exceptional prices.
British Red Cross – reasonably priced – always has a sale rail for even more of a discount, but more for my mum than me.
Oxfam – bad – don't even bother going in any more – used to be expensive and popular but now just tatty with lots of fair-trade products and other goods being sold – good for anyone looking for chocolate or postcards.