Save money on supermarket wine with a personal wine expert app – Wotwine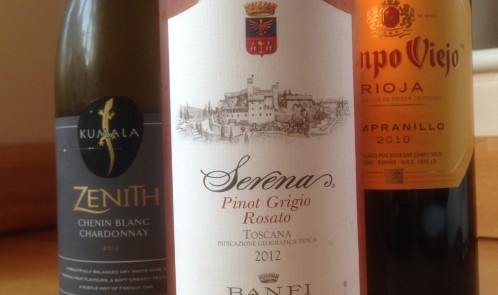 Now I must admit when I go to the supermarket, I choose the wines that are knocked down from £9.99 to £4 or £5. I figure that if it costs so much in the first place, it must taste good.
I like dry white wine and rose, but couldn't name a good grape to save my life and when I get to the supermarket, I am faced with a confusing array of wines and prices.
That's when I discovered wotwine a brand spanking new supermarket wine app. The free to download app helps determine whether a "deal" is in fact a real deal and can help you save money on supermarket wine.
You simply scan a bottle barcode in a supermarket and the app throws up all kinds of information: the quality, but most importantly the price that wotwine would pay for the wine. They have an eight-strong tasting team, so they know what they are on about. They've tasted 1,700 bottles of supermarket sold wine and put the information in a database – guess they didn't try them all in one go, or that would have been one helluva party. The wotwine team meets every week to review new wines hitting the shelves, so their list is pretty up to date.
Through the app, shoppers can find out if they've been swindled by hike-ups or confusing discounts, so, for example, it tells you that the 'half-price' Merlot you've discovered isn't a great deal, but that £2.99 bottle of rose from Aldi is actually good value-for-money.
So three simple things to do with the app to grab a wine bargain:
1.      Scan the bottle's barcode using the wotwine app.
2.      Reveal the wotwine pounds and pence value for that wine, and receive an expert evaluation about the bottle.
3.      When the wotwine price is better than the shelf price, you bag a bargain!
I asked the guys at wotwine to give me the skinny on some top deals, where the wine is good quality and the price beats what it's worth, so here are my favourites:
Top Value Fizz: Cremant de Jura, Aldi £6.99, wotwine values it as: £8.50 (saving: £1.51)
Top Value White Wine: Chablis 1er Cru, Contesse Alexandre 2012, Aldi. £8.99. wotwine values it as £11 (saving: £2)
Top Value Red Wine: Carta Roja Gran Reserva 2005, Sainsburys £6.66;  wotwine values it as £8.50 (saving: nearly £2)
Top Value Port: Master Blend Trademark Finest Reserve Port, Tesco, Sainsbury and Waitrose £7.39. Wotwine values it as over £13 a bottle (saving: £5.50)
If you're loyal to a particular grape (get the lingo!), the app also has an easy-to-use search facility to help consumers find the best value wines in their category-of-choice (e.g. all Merlots or all Californian wines).
All nine major supermarkets are covered even the discount stores: Asda, Aldi, the Co-op, Lidl, Marks & Spencer, Morrisons, Sainsbury's, Tesco and Waitrose.