Poundshop.com launches for online pound shopping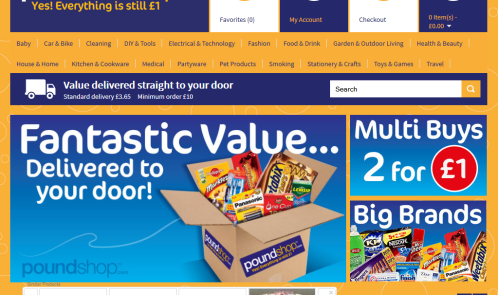 Poundshop.com is now live, so now even the people who don't want to be seen shopping in pound shops can enjoy the delights we others have known for years.
With 18 different product categories including health and beauty, partyware, food and drink and medical, lots more people will discover the benefits of pound shopping.
The site, which has a minimum order of £10 and delivery at a flat fee of £3.65, will increase Poundworld's reach to areas where it does not currently have a retail shops. Poundworld is the high street shop behind Poundshop.com.
Some sample great buys are Arm and Hammer toothpaste, ped egg, pregnancy test, round foil party platter x 3, solar wall light, lawn restore feed, cable ties and a bungee cord – all for a £1 each.
Deliveries are made Monday to Friday 8am – 6pm. If you order before 2pm, they aim to deliver within 2 – 3 working days. However as they were getting 5,000 visits per second today, deliveries may take 5 – 7 days in the first few days.
Poundworld is hoping to boost the popularity of fixed price shopping today by launching what it claims is the UK's biggest online pound store.
The shopping website featuring thousands of products priced at £1, will go live this afternoon at 2pm and is set to challenge rivals who currently only have high street stores by allowing shoppers to grab a bargain without leaving their homes.
Poundworld teamed up with former Poundland entrepreneur Steve Smith who sold his interest in the rival business 12 years ago for £50m.
But Poundshop isn't the only player in town. Hereforapound.com launched recently, as well as Pound Panda.
Yorkshire based Poundworld has 250 shops and opened 50 new stores last year in towns and cities including central London.