Mrs Bargain Hunter visits Poundstretcher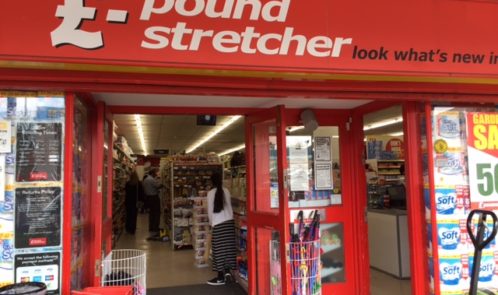 As a diehard pound and discount store fan, I was excited to make my first ever visit to Poundstretcher.
Like my visits to Aldi, I had to get in the car for this one as the nearest store is just under four miles away, but as it's on the same bit of town as another Aldi and a lot of other fab discount stores like Wilkinsons. I am getting the feeling that you'll only find Poundstretcher in "discount" locations or parts of town, and I hadn't visited before as I usually didn't get down that far this strip of shops.
Anyway, first impressions were mixed. I could see some great enticements outside, but when I got in the store, I was hit immediately with the dried food and tins aisle….let's just say, I was a little disappointed at that. Fair play to them though as many customers probably think food is more important than other things in the store. The shelves were jam packed (and I really mean that!) with cut price teas, tins and cupboard staples. The was a sort of bigger version of the food bit at Poundland. Oh but you can also buy bigger pack sizes so things for over £1.
Now the end of aisle one definitely caught my eye and got me a little more excited. There were mirrors, and picture frames – all manor of mirrors. Now mirrors are not cheap, but these would do the job and would suit any type of decor. Turning the corner, I pounced on the picture frames – at £1.99 for metal frames 8 x 10, I'd be a fool not to!
And the bedding, I could tell the quality through the packagine but a microfibre double duvet set for £7.99 would be fine for a guest bed if it doesn't last a long time.
If you want to decorate your home, I loved the adhesive wall stickers at £1.99. We spruced up our kid's walls with stickers from IKEA when the walls were looking a big grubby and we didn't have the time to paint, so this is a great alternative and much cheaper. They also sell cute wooden hearts and hanging decorations as well as hooks that match.
I have a lot of things (rubbish) and so the Pac n Vacs at £2.99 did appeal and under bed shoe storage at £1.99 went into my trolley.
For basic cookware, you could kit out your kitchen for less than £20 at Poundstretcher.
If you haven't got your halloween gear yet, head to the shop as they have some great value items.
I was impressed by their kid's pyjamas – well known brands on the front for prices that won't sting. There were full length Dory, Space Ranger, Thomas the Tank engine and more kids pjs for £3.99!
Fed up of a mouldy bath mat, well from £2.99 you can have two, or afford to swap them out more often.
I just spent about £40 for a mattress topper from eBay – it got great reviews and I needed it for a small single – anyway, you can get at £14.99 at Poundstretcher.
Obviously, I had to look at the toilet roll deals. 24 Velvet for £8.99 wasn't too shabby!
99p reading glasses are great for spares if you know your prescription.
I loved the toy section. My favourite idea is where they reproduced games like Pie Face and Twister, but just made them cheaper.
I have put images of my favourite finds there, and you should be able to zoom in for prices, though do get in touch if you can't as I have the original images.