Channel 4 Dispatches – Supermarket Wars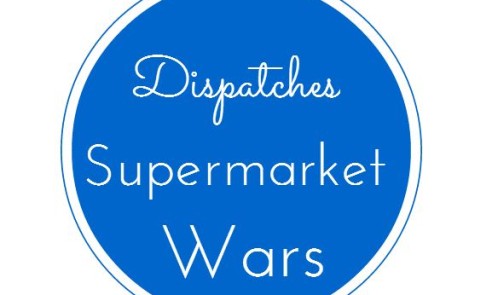 Watched dispatches Supermarket Wars tonight. It was interesting to see how the Big Four supermarket sales are stagnating or decreasing while they are growing by 23% for Lidl and 39% at Aldi.
While the discount stores aren't pretty, one of the reasons they can keep their prices low is that they don't offer the variety as do larger supermarkets.
On average supermarkets stock 30,000 different products while discounters stock 1,000+ items. So less products, mean less storage, people needed and costs.
One lady said she would have spent £100 at Sainsbury's but instead she got her shop for £53.
However, the discounters are not only for the cash strapped, but are also offering a small range of "posh nosh" which helps to change middle-class consumers' perceptions. I wrote last week about the riding gear special buys range…..no doubt targeted at the middle classes, rather like their ski gear.
This may explain why the customer base at Aldi and Lidl is increasingly middle class – 24% of their shoppers come from the AB socio‑economic group – which is almost in line with Tesco and is higher than Morrisons and Asda.
Two ladies were interviewed in the programme and given a challenge to buy 33 items. One knew where to go to get the products at the prices and the other started by using a supermarket shopping app to identify cheapest products.
They both recommended tactics like shopping around, stockpiling, bulk buying and no longer one big weekly shop. Of course, the discount stores won in the shopping challenge.
The ladies both lamented the fact that prices have been going up and sizes going down. That doesn't help with fostering loyalty…which the presenter Harry Wallop says is dead for the major supermarkets.
The desire to shop around to bargain hunt is a result of the recession. Even though the economy is improving, many shoppers have decided to that they will continue to be savvy shoppers.
It seems that the large out of town hypermarkets' days may be numbered. Dispatches research found that 97 out of 394 supermarket sites that had planning permission, have now been put on hold or scrapped. Local and Express stores however are growing in number, for example, Sainsbury's Locals have nearly doubled in the past three years to 611 outlets.
Also, worthy of note are the fact that Aldi and Lidl are often in smaller formats, and they already control 8.3 per cent of the grocery market.
Their low prices are the reasons that other supermarkets have launched cut price ranges, especially earlier this year.
I am sure we'll all be watching out how the supermarket wars go on.