ALDI launches Euro Championships kit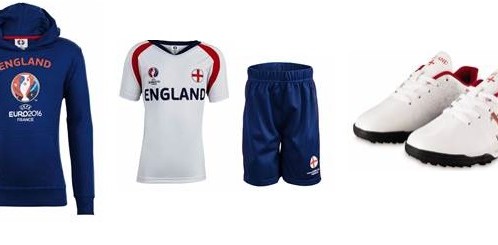 Sports lovers can kick off the 2016 European Championships in style with Aldi's Euro's 2016 range, in stores and online from 2 June and available while stocks last.
The new range from Aldi includes a whole host of UEFA licenced clothing and accessories. Supporters can show where their loyalties lie by sporting an official UEFA 2016 Hoody (£14.99) in the colours of their national side. Available for England, Wales and Ireland, these hoodies are available in zip-through or overhead styles and feature printed logos with a central pocket.
To complete the look, followers can show their support by donning an Adult's UEFA 2016 Football Shirt or Polo Shirt (£5.99) and matching UEFA 2016 Cap (£3.99).
For younger fans, a Children's UEFA 2016 Hoody (£5.99) can help them to get behind their team, even in colder weather. Or, in milder conditions, kids can enjoy a kick around whilst looking the part with a full Children's UEFA 2016 Football Kit (£5.99), Children's UEFA 2016 Football Boots (£8.99) and Official Euro 2016 Football (£8.99).
Aldi has also brought out a value Drinks Fridge (£79.99) which features an adjustable shelf, reversible glass swing door, a sizeable 47L capacity. Aldi's brand new range of craft beers, such as Wadworth (£1.25) or Wizard Amber (£1.25) will also go on sale on 5 June.
Aldi's Euro's 2016 range is in store 2nd June and available while stocks last. Full items in the range are:
| | |
| --- | --- |
| Description | Price |
| Drinks Fridge | £79.99 |
| UEFA 2016 Hoody | £14.99 |
| Children's UEFA 2016 Football Boots | £8.99 |
| Official Euro 2016 England Football | £8.99 |
| Official Euro 2016 Football | £8.99 |
| Children's UEFA 2016 Hoody | £5.99 |
| Children's UEFA 2016 Football Kit | £4.99 |
| Adult's UEFA 2016 Football Shirt/Polo | £3.99 |
| UEFA 2016 Cap | £3.49 |
| Children's UEFA 2016 T- Shirt | £2.99 |
| Wadworth 6X 500ml | £1.25 |
| Wizard Amber Ale | £1.25 |