Website and app for finding cheap petrol – PetrolPrices.com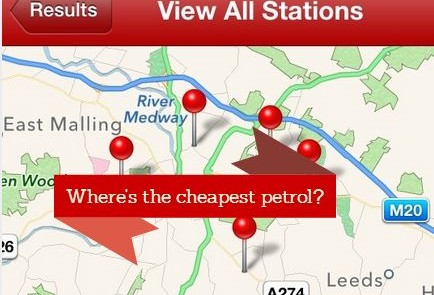 With London and other cities threatening to impose a diesel tax, on top of all the other taxes faced by motorists, finding ways of cutting the costs of motoring have never been more important. And, with another fuel price war kicking off between supermarkets, tracking down the best deals could save drivers a few pretty pennies.
Asda kicked off the price war earlier this week by capping petrol at 124.7 p per litre and 128.7 p per litre on diesel across its 234 forecourts this weekend. Tesco and Sainsbury's have also jumped aboard the petrol-price-drop wagon lowering their prices.
With the petrol price wars raging, I've found www.PetrolPrices.com – a website that helps users to search for the cheapest petrol in their area or across the UK quickly and at no cost, allowing them to make substantial savings.
Every day, PetrolPrices.com can see how motorists filling up with unleaded at the country's most expensive forecourts are paying up to £15 more than those at the cheapest, and truck drivers topping up with 1,000 litres of diesel are paying more than £200 more if they used the expensive filling stations.
The price differences on forecourts exacerbate the problem for motorists and it's essential they shop around to save themselves money. A typical motorist driving 10,000 miles a year can save at least £50 every year by using the site regularly before they fill up.
There is also an option to receive regular e-mail alerts so they will always be the first to know when the prices change. The petrol price data is collected from the hundreds of thousands of fuel card transactions that are processed at petrol stations across the country each day. They have petrol prices for over 10,000 stations and receive approximately 8,000 daily updates, ensuring the data is accurate and up to date.
There's an app for that and giveaway
They also have an app called entitled PetrolPrices Pro on the Apple App Store and costs £2.99.
Here's how it works
You put in your postcode, type of fuel, get the prices and the locations and off you go.