Easter dinner from Aldi at £3.80 per head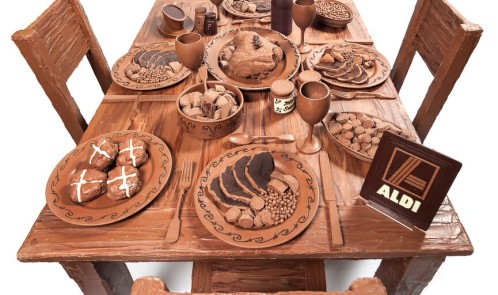 This Easter, at Aldi, customers can feed a family of four for £3.80 per head – cheaper than a single luxury Easter egg in most UK supermarkets – and to celebrate, the supermarket has rather strangely (IMHO) commissioned a life-sized chocolate dining table, complete with a lamb roast dinner and all the trimmings.
Aldi's edible and intricately crafted 'Chocolate Roast' includes everything you'd expect on a Easter celebration table including a Whole Leg of Fresh British Lamb (£3.79 per kilogram) and Good Housekeeping Institute approved Specially Selected Hot Cross Buns (99p, 4 pack), as well as cutlery and plates.
Accompanied by fluffy Maris Piper potatoes (£1.89, 2.5kg), garden peas (69p, 907g), fresh carrots (45p, 1kg) and Bramwell's Mint Sauce (39p, 180g), this yummy table also includes a bottle of Aldi's Exquisite New Zealand Pinot Noir (£6.99, 75cl) all of which, can be picked up in store, for less than a twenty quid.
Of course, you could nip down to Morrisons and grab some of that veg even cheaper, and reduce the cost per head further or add some extra veggies for not much cash!
Master chocolatier, Jen Lindsey-Clark, spent three weeks creating Aldi's 'Chocolate Roast' which has been made from a whopping 50 kilograms of melted Aldi Moser Roth Premium Easter Egg (£2.99, 185/195g).
To find out more about the range of products available at Aldi this Easter, visit aldi.co.uk.