School shirts for £5 per pack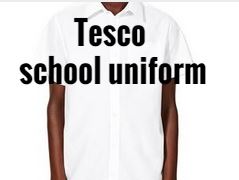 Wouldn't it be nice if kids only needed one pack of shirts per year? But no we have to have long sleeved and short sleeved and then they grow!
Anyway, I needed some short sleeved boys white school shirts, sized 13-14 or 13. They are not cheap! I looked at M&S – £6 – £12 for two, John Lewis – £8 – £14 for two, then Asda had no stock, neither did BHS, so I turned to Tesco. As I need six, I don't really want to spend over £30 for school shirts. Now I have bought uniform from Tesco before and not been back in a few years. Quality didn't cut it. I tended to buy uniform from Sainsburys, but they don't sell it online.
But this time Tesco saved me and I have been pleasantly surprised. We're about six weeks in and these £5 for a pack of two shirts have washed well and look goo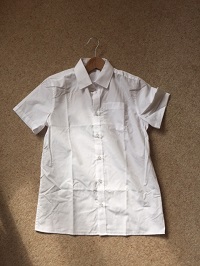 d. They have the same composition as the M&S and John Lewis shirts of 65% polyester and 35% cotton. They are non-iron which saves me plenty of time too. They range in price from £3 – £5, so even cheaper if you have younger children.
The picture here is how they came out of the packet so of course they are creased, but the image above is Tesco's publicity shot, so a better idea of what they look like once on. I don't like to eat my words, but on this occasion I will – Tesco school shirts are good for my little bargain hunter.