Occasion wear for kids at less than £2 per outing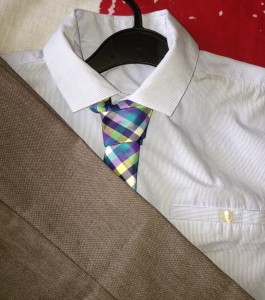 As most of our friends get older, we get invited to less weddings, but we still attend one or two a year and we get invited to family parties and special gatherings quite often.
While a few years ago, it was okay to send the kids in cute but casual clothes, now they need to look slick.
I would recommend BHS and Next as nearly every town has either one of them. BHS seems to have the larger range and last week I managed to get a nice shirt, tie and trousers for my 12 year old for less than £40. That was with a BHS loyalty card which gave me 5% off.
Now that doesn't sound like a bargain and it was definitely a sharp intake of breathe when I got to the till. I figure that he can wear this outfit at least twice this year, then I can pass it onto his brother, who can use it at least a couple of times too – that's £9 per wear and I can stick them on eBay to recoup some of the outlay.
However, my long term plans didn't solve the problem of wedding outfit for my other child.
I checked the wardrobe and didn't have anything in his size, so I broke my rule of only BNWT kids clothes from eBay. I figured that occasion wear is only worn on average 1 – 3 times max per garment, so how much damage could a child do in that much time? I know my child's measurements and that he needs an adjustable waist, so started the search on eBay. I bagged myself a pair of Next trousers which are £20 in the shops and a shirt and tie selling for £18 in store for £3.99 including postage and packing. I got the items and they looked so much better than the picture on the listing, so if he wears the gear twice that's £2 per outing.
I noticed that BHS's range only varies slightly this year from last year's collection and some of the trousers are still sold, so the items on eBay still look fresh and this season to the uninitiated. The trick here is to look for bargain kids clothes that have been bought for a wedding and never worn again, and you can't go wrong with Next or BHS.