Men's and boy's haircut for £5 – Kings Barbers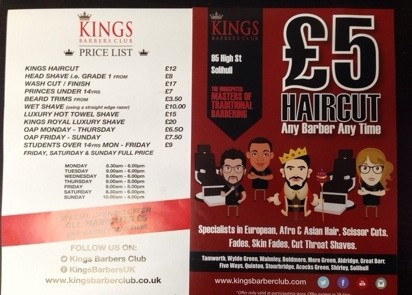 I get miffed that haircuts for my boys cost £10.25 at weekends and £8.75 on week days, so today we popped into Kings on the High Street in Solihull.
They are doing all cuts for £5. Of course, it's an introductory offer, but for boys it goes up to £7 when the offer finishes, so that is still a nice cheap haircut. The barber didn't know when the £5 offer will finish, but it got me through the door and was half what I would pay normally, so I was happy enough.
There was a family in there with three boys and a dad so that must cost a bit every month, so Kings must be welcome on the high street for them and many others.
The barbers is open and airy with five stations. I definitely wasn't expecting anything so spacious. It has some great sporting pictures and plenty of comfy leather chairs for patient waiters. We waited for around 20 minutes for a cut, which is the same as other places as it was busy.
And the cut, yes we were very pleased with it.
Here's some pictures of my visit: