Halfords offers trade in on old bikes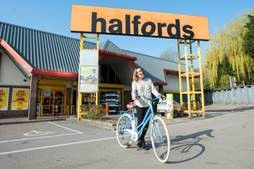 Need a new bike, but want to sell your old one? Or need to simply just get rid of your old bike while getting a new one? Want to donate your bike to a good cause?
Well Halfords can probably help. They've teamed up with Olympic champion Victoria Pendleton to launch a national bike trade-in event for charity campaign.
Customers can donate unwanted bikes at any of Halfords' 460 stores between Thursday, 16 and Monday, 20 April to receive 10% off a new bike – or simply donate a bike that is no longer needed. Bikes are then recycled and donated to communities in Africa to provide much needed transport.
Adult bikes are the most needed, but all bikes that are in a reasonable condition, including kids' bikes, will be accepted provided they are complete with no cracks in the frame and less than 25% rust.
Re-Cycle was set up in 1997 and since then has sent over 60,000 bikes, as well as bike parts and tools, to 16 different countries in Africa where working bikes are making a difference to real lives.
Halfords also donates reconditioned children's bikes and new helmets to primary school children in disadvantaged areas across the UK. Currently in its first year, the scheme will donate around 500 children's bikes and new bike helmets to schools in the eight cycling cities of Manchester, Leeds, Birmingham, Newcastle, Bristol, Cambridge, Oxford and Norwich.