Savoury bread and butter pudding recipe for £1.07 per portion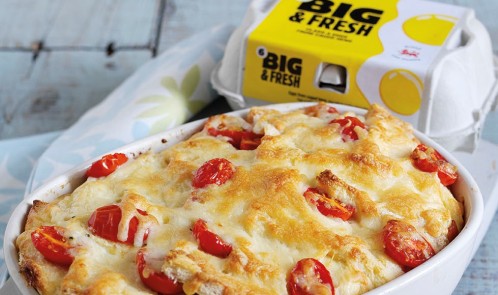 I am not a great cook, so this brilliantly easy savoury bread and butter pudding is perfect for a tasty, economical midweek meal or Saturday tea.
The recipe was sent to me by Big & Fresh Eggs. I must admit, I was already a fan as they are great for feeding hungry families due to the larger size of the egg, meaning they are good value. Their eggs are in Morrisons, Tesco and Asda, so I priced them up using mostly own brand products from Tesco and Asda to see how cheap I could make the recipe. See the chart below and enjoy:
Ingredients
40g butter
1 bunch spring onions, sliced
8 thin slices white bread, cut in half
100g roast ham, chopped
175g mature Cheddar cheese, grated
3 Big & Fresh eggs
450ml milk
8 cherry tomatoes, halved
Salt and freshly ground black pepper
Instructions
1. Preheat the oven to 190°C / fan oven 170°C / Gas Mark 5. Grease a 1.5 litre baking dish with a knob of butter.
2. Melt the rest of the butter in a frying pan and gently fry the spring onions over a medium heat for 4-5 minutes, until softened.
3. Arrange half the bread over the base of the baking dish. Scatter the spring onions on top with all the ham and half the grated cheese. Layer the remaining bread on top.
4. Beat the eggs, add the milk and season with salt and pepper. Pour evenly over the bread. Sprinkle the remaining cheese over the surface and add the cherry tomatoes. If you have time, cover and leave to stand for 10-20 minutes.
5. Remove the cover from the pudding and bake for 30-35 minutes, until puffed-up and golden brown. Serve at once.
Cook's tips: This is a great recipe for using up bread that's 2-3 days old, as its drier texture soaks up the egg mixture to give great results.
Serves 4  / Prep time: 20 minutes / Cook time 35 minutes
This recipe was made using Big & Fresh eggs, for more information and delicious recipes visit www.bigandfresh.co.uk
| | | | |
| --- | --- | --- | --- |
| Ingredient | Stockist | Overall price | Price of amount used |
| 3 Big & Fresh Eggs | Tesco, ASDA, Morrisons | £2.25 for a box of ten | £0.75 |
| 50g Butter | Tesco | £0.98 | £0.17 |
| 1 bunch spring onions | ASDA | £0.50 | £0.50 |
| 8 thin slices white bread | Tesco | £0.47 | £0.23 |
| 100g roast ham | ASDA | £1.70 | £0.85 |
| 175g mature cheddar cheese | Tesco | £2.90 | £1.16 |
| 450ml milk | ASDA | £0.49 | £0.24 |
| 8 cherry tomatoes | ASDA | £1.00 | £0.40 |
| | | TOTAL | £4.30 |
| | | TOTAL PER PERSON | £1.07 |