Beautiful and bargain Valentine's gift ideas for under £15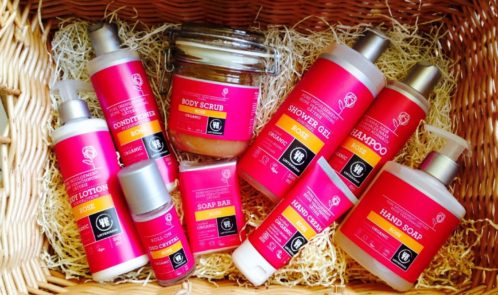 For this year, I have put together some Valentine's gift ideas and tried to stayed under £15. As per my Home Bargains Valentine's post, why not put these or other items together and make a gift basket? If you are on a big budget, look out for yellow stickers in the plant sections of supermarkets like Co-op as they are selling off potted plants, and there is always M&S for Dine in for Two for a romantic meal, or Poundland for bits and pieces. There is so much to choose from that I put together a list of my favourite ideas here with images underneath.
7th Heaven face and hair masks
I use these face masks and believe they'd make great gifts. 7th Heaven develops beauty and spa products such as face masks, hair  masks, body scrubs, and body smoothies for men and women that are natural and cruelty free.  These masks are extremely affordable, with the face  masks as low as £1 each! I would recommend buying a few and making a pamper package for your loved one. Firstly use the 7th Heaven face masks – they don't get more popular than their mud mask collection. Enriched with nourishing active ingredients, these face masks deeply clean your face and pores leaving your skin fresh, clean and glowing. Look out for the hydrating face mask symbol on our mud mask range for a rich nourishing facial. Mix it up with the 7th Heaven Peel Off masks instantly purify and refine skin. In fact peel off masks are gentler and more effective in removing dead skin cells than scrubs, whilst leaving skin incredibly purified and smooth. Discover all the natural goodness in our Peel Off mask collection to nourish and pamper skin to perfection.
And how about a nice Argan or Coconut hair mask to finish off your package?  Vitamin rich Argan Oil and Panthenol help promote the growth and healthy and strong hair. A helping hand to tame frizz and promote shine. The most nourishing Coconut hair mask you'll ever experience! Creamy Coconut dew & nourishing protein rich Quinoa (pronounced Keenwa') grains are gently blended together to make this refreshing tropical mask. Quenching coconut oils feed thirsty hair, strengthening and volumising from the roots for complete hair happiness.
Personalised heart slate coaster
I love this gift idea – a grey slate heart shaped coaster for £9.99. An ideal gift for for him or her. As these are personalised, your message will be engraved on the front. I got a generic message done as a Valentine's gift for my teenage son. He wouldn't want anything mushy, but this is right up his street. The message can be a maximum of 52 characters over 4 lines, 13 characters per line for best results. I was very impressed with the service as the item arrived quickly and the quality of the coaster and the engraving is very nice.
Rose cented organic hair and body products
Pretty in pink organic rose-scented body care range from Urtekram as is an awesome eco-gifting option for organic romance on the 14th February. Urtekram, which means 'herbalism' in Danish has created a range of effective organic body care preparations in a variety of scents which enable you to naturally care for your body, from the outside in. There are 11 products in the UK Rose range, each infused with the enduringly romantic scent of a thousand red roses. What better way to pamper a loved one on Valentine's Day than with the scent of love?
Grace Cole personalised bath foam
Beautifully packaged fragrant bath foam with wonderful extracts of Vitamin E, Honey and Mandarin. Nectarine Blossom & Grapefruit RRP £8.00, and available in varying fragrances. Grace Cole are an independent UK business (based in Cheshire) who produce some of the UK's finest body care products, from shower gels to body creams, hand lotions to lip balms, body scrubs to body mists. Grace Cole pride themselves on our luxury formulations, inspiring fragrances and their ability to make everyone feel special when using our products.
Nelsons bath and massage balms
Nelsons arnicare bath & massage balm could work really well for your active love. Nelson's products are great for pampering or wanting to relax. As a luxurious dual-purpose balm, it's perfect for a romantic massage or pouring into a bath to create a gorgeous fragrance that will help your partner to relax and unwind after a busy day. The natural properties of Arnica montana extract and sweet scents of Lavender and Grapefruit essential oils are ideal for calming senses and melting away tension. It's also enriched with Evening Primrose and Sweet Almond oil making it the perfect pampering treat.  Nelsons arnicare bath & massage balm costs £8.55 and is available from Boots.
Prosecco for your loved one
Deals from Bargain Booze. Shoppers can pick up some great deals on prosecco, sparkling wine and chocolates, including a bottle of Provetto Spumante Rosato Secco for just £4.99 (was £5.99). I would stock up on Provetto Spumante Rosato Secco 75cl, £4.99 (was £5.99) and Duca Del Poggio Prosecco 75cl, £5.99 (was £6.49).
Aldi Valentine's Special Buys
Available online and in-store at Aldi from 5th February, the range includes everything from chocolate fountains and pink champagne to matching couples nightwear and stylish lingerie sets. The roses are really good quality in Aldi – I would say on a parr with M&S but for much less outlay, so if you are gifting flowers, head over there. Romantics can even dish up in style with Aldi's pretty heart Valentine's Plate Set (£4.99) or this cute Tea for Two Set (£9.99).
New Max Factor Velvet Matte Lipsticks
For £7.99, these gorgeous mattes offer a soft moisturising feel (no compromise between end look and texture). The lipstick comes in shades Love, Desire, Blush, Sunkiss, Rose, Flame and Nude.
Fiorelli jewellery – ladies rose ring
From the WatchShop.com at £11, this adorable rose gold plated ring from Fiorelli offers a minimalistic heart shaped design makes this ring perfect for any occasion.
Phil Smith Be Gorgeous hair products
Super Smooth – this Keratin-rich conditioner delivers super-sleek perfection. Make an entrance with straight and silky hair in tip-top condition. Pick it up at Sainsbury's. Team it up with Paul Smith's oil-in-cream treatment that will miraculously transform the texture of your hair into lustrous silky locks. It helps lock in moisture to heal dry, damaged hair and restore smoothness. Prepare to be amazed by the gloss and general hair gorgeousness.
Kim Kardashian mini scent set
Now I know a lot of young ladies idolise Kim, so make this February 14th one to remember with amazing savings from MandMDirect.com. Giving you up to 75% off RRP across a vast range of big brands means you can feel confident that your bank balance won't be stretched, whether you're treating someone, or buying a gift for yourself. So whether for your Kim K fan, or for the single ladies this 'GAL-entines Day', it's all about loving yourself: get this gorgeous Kim Kardashian mini gift set at MandM Direct and save £10 as it's only £9.99! The set contains 4 x 7.5ml EDP (True Reflection + Glam + Gold + Signature). It contains notes of mandarin, honeysuckle, orange blossom, pink jasmine, tuberose, gardenia, spices, tonka, jacaranda wood, vanilla orchid, musk and sandalwood.
Get smooth with Dorco razors
Now this is a gift you lovely ladies should be giving to yourselves…yes Valentines should not be restricted to gifts only given by others to you! With its innovative six blade design, EVE 6 will glide effortlessly over your skin delivering a close, conditioning shave and comfortable hold all at the same time. So if you want to spend less time indoors grooming and more arm in arm with your beau, grab your EVE 6 and go! Preparing you for even the most impromptu of steamy moments, Dorco promises silky smooth pins so all you have left to do is throw on your favourite LBD and own it. With a whole host of other key features and a handy subscription service, Dorco EVE 6 truly is a match made in heaven:
Vitamin E: Anti-aging and anti-oxidant benefits moisturises for more vibrant skin
Aloe Vera: Calms allergies and skin irritation
Lavender Extract: Rejuvenates collagen to reveal younger looking skin and relieves any possible skin irritation
I tried out some of the products, but not all of them and my opinion is my own….www.mrsbargainhunter.co.uk/x