Head to Home Bargains for Valentine's ideas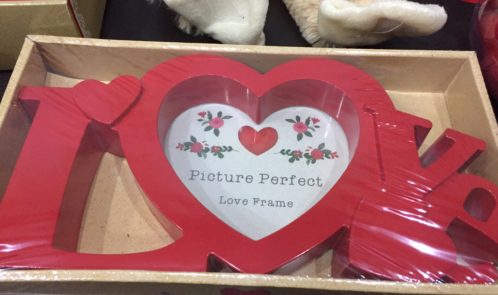 So if you are on a limited budget or just have a loved one who would really appreciate lots of little cute gifts, then Home Bargains is the place to head.
Why not start the morning with a beautifully decorated house or flat? The discount store has love heart lights (£1.99), felt heart bunting (99p), heart balloons on sticks (79p) and a pack of heart balloons for 59p.
If that's not enough, why not sprinkle some artificial rose petals (79p) around to make your loved one's heart go a flutter?
So you have decorated the gaff and still haven't spent much (around a fiver), so the day can be made special with a romantic breakfast. An egg cooked in the shape of a heart in a 99p frying pan to start seems a good idea.
Then why not present a picture of the two of you in a gorgeous love frame (£1.29). Or if your loved one likes cuddly things (and who doesn't?), choose from a monkey toy and heart at £2.99 or a cute bear in a bag for £1.99.
If all that hasn't pulled on your loved one's heart strings, then get out the Valentine's crackers for 79p and send him/her off to work (if you both haven't taken the day off) with some Valentine's themed sweets (49p) or heart shaped chocolates or lollies for 79p and 59p respectively.
I love the selection at Home Bargains and thought that as they are so competitively priced, wouldn't they make a nice Valentine's bundle so that you can both decorate and set up your home together?
With that in mind, I cut out some card, put some of the items on it, took some cellophane and a red ribbon, et voila, look what can be done below…the light is awful this time of year, so it looks much better in real life.
Anyway, thanks to Home Bargains for letting me take a look at all these lovely things, but I must warn at these prices, you may want to hurry along before they get snapped up.