Zero Water filter jug – cheaper than mineral water and tastier than tap water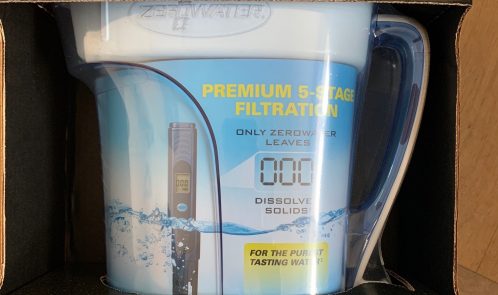 I had to stop buying fizzy water bottles because of what I was doing to the environment, but I really like the taste of mineral water – fizzy or still and that's why I turned to water filter systems to get cleaner and healthier water. I have one on my fridge and much prefer it to tap water, but wanted a jug too that I can carry to other places in the house.
This is where the Zero Water filter jug comes in – it removes up to 99.6% of all dissolved solids so tastes better than tap to me. Slim and lightweight, the jug has a space-saving design and this jug provides high quality filtered water at a fraction of the cost.
I've been trying it for a month and the filters are still going strong (family of four) and are not as expensive to replace compared to say Brita filters.
As an NSF certified system, these jugs claim to reduce the lead content in your water as well as fluoride. Zero Water is so confident in this that they included a handy TDS (Total dissolved solids) water meter with each jug so you can see the difference for yourself.
The jug comes in 7 or 12 cup sizes and is designed fit in standard UK fridge doors.
The filters work great – they come with their own water meter that reads the amount of contamination in your water.  If you test the water before you use the filter and after, the numbers definitely change. The filtered water tastes cleaner than my town water.
Like others I compared this with tap water and the supplied TDS meter:
Tap water: 236 ppm
Zero Water with new filter: 0 ppm
I found the jug itself to be well made and designed, just as good as my Brita one that I have lying forgotten in the cupboard.
I have rounded up some features and benefits from the Zero Water website:
Slim and lightweight – This space-saving design with dispensing tap and integrated handle is perfect for keeping clean water available to you at all times.
TDS water meter included – See for yourself. Test your tap water and compare it to the Zero Water filtered water to see the filters doing their work.
Save money – Producing the same high quality water you expect from a bottled brand, this jug will save you having to buy bottled water.
Specifications
Jug capacity: 12 cup (2.8 litres)
NSF certified
TDS meter included
ZeroWater Ion Exchange water filter included
Removes 99.6% of all dissolved solids
Removes 99% of all Fluoride
Dimensions: H 27.5 x W 29 x D 15cm
1 year guarantee