Aldi Online Food Shop Launched to Get Groceries Delivered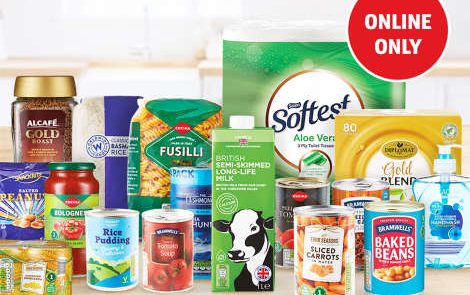 Today Aldi is launching a new online grocery shopping service to help vulnerable customers – they will receive budget food delivered to their door for £24.99, including delivery.
The ambient food parcel contains 22 products, including tinned soup, rice and pasta and toiletries such as antibacterial handwash and toilet roll. Here is a list of what comes in each box and you can get these products here: Aldi food parcel.
Antibacterial Handwash
Aloe Vera Toilet Tissue 4pk
Choceur Milk Chocolate Bar
UHT Green Semi Skimmed Milk
Rice Pudding
Salted Peanuts
Biscuit Barrel Assortment
Gold Label Tea
Instant Coffee
Premium Baked Beans
Premium Plum Tomatoes
Bolognese Pasta Sauce
Tuna Chunks In Brine 4pack
Bramwells Carrot & Coriander Soup
Tomato Soup
Minestrone Soup
Chilli Con Carne
Basmati Rice 1kg
Fusilli
Part Baked Brown Roll
Sliced Carrots
4 Pack Sweetcorn
As well as the online food parcels, they are also running other initiatives to support the elderly and vulnerable, with a donation of £250,000 to Age UK in March. The store also introduced reserved opening times 30 minutes before regular opening times (Monday to Saturday) for vulnerable shoppers.
Other food parcels include:
At the start of the coronavirus outbreak Marks and Spencer launched a £35 box filled with essential groceries for customers struggling to secure an online shopping slot.
The initiative followed a similar scheme offered by Morrisons which provides key food products for elderly and vulnerable customers.