Tanning products for the budget conscious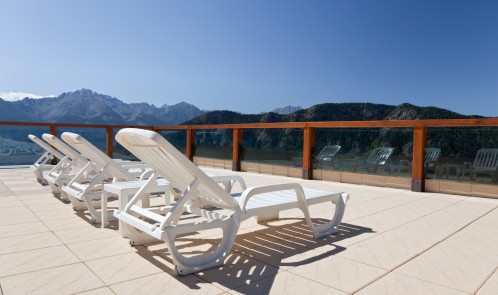 When summer comes around I always turn to fake tan to give me a head start on a healthy glow and some natural (looking anyway!) colour for my holidays. This year I decided to stray from my usual brand as I wanted to try something new. So, to really do a comparison between my preferred fake tan and the two new ones I decided to trial, I went for a cheap and cheerful version – Sunkissed, which starts at just £4.99 for 150–250ml and comes in gels, mousses and sprays so you can choose whatever application you like best – and a more expensive one – Manuka Doctor, which is usually priced at £24.99 but is currently on special offer for £14.95 for 200ml gels.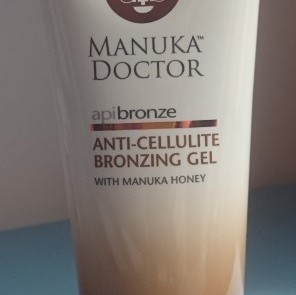 I tried the Manuka ApiBronze Anti-Cellulite Bronzing Gel first. Used by celebrities Jess Wright from TOWIE, I thought it must be great as no good Essex girl would put her name to a bad fake tan product, right?
My initial attempt to put this fake tan on using just my hands did not go well. The gel went on well enough but after only a few hours I could see that the effect was patchy at best, so I tried again – this time using a fake tan applicator mitt – and the effect was a lot better.
Before                                                                         After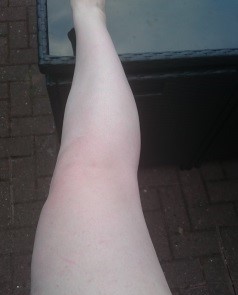 Not only was it more even, but I didn't end up with hands that looked like I'd been making mud pies all day. However, the finished colour was far from a holiday abroad. It was more like a weekend in Blackpool.
Although the directions say that this fake tan will develop after one hour, I left it on overnight to ensure that it was a nice natural colour the next day. It was still lighter than I would have liked though so I would have to apply several layers to get my desired beach babe colouring.
To be fair to this product, it is the best smelling fake tan I have ever applied – it smelt of the natural ingredient, honey – and does indeed smooth out cellulite, but honestly I wouldn't buy it again. Why? Well, my main reason – other than the high price – is that even after four washes – with a scrubbing brush no less – I was still struggling to get it off. This is a major turn-off for me with fake tans as I ended up with a dark and milk bottle white patchwork effect to my skin that meant I spent the middle of this summer covered from head to toe. Not good!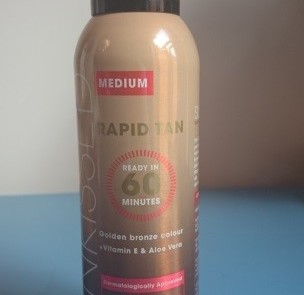 On the other hand, I can't fault the cheap and cheerful fake tan that I went for. In fact, I think that Sunkissed Rapid Tan Mousse is a Godsend for fake tan lovers. Only £4.99, this mousse goes on really dark so you know exactly where you've covered and what spots you've missed, so there's no need to worry about the patchwork effect.
This light-weight mousse is quick-drying and goes on smoothly. It only comes in a medium colour, not light or dark, but even though I am pale skinned, it gave me a lovely natural colour. Because it is darker than I would normally have gone for, I could see the start of the colour developing after just 60 minutes but, again, I left it on overnight to let it develop fully. I woke up with gorgeous brown skin that looked like I'd been on holiday in Mauritius for the summer. The tan was so natural-looking and, even better, when I was ready to go back to pasty white.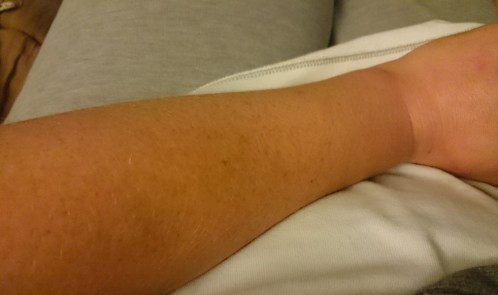 Aloe Vera and Vitamin E in this fake tan helped to moisturise my skin and keep it soft, which kept my tan in great condition. The only complaint I had about the Sunkissed mousse was that it came off in stages and didn't just wash off in one go. It did only take two showers – and no scrubbing brush! – to come off completely though so I would definitely buy this fake tan again.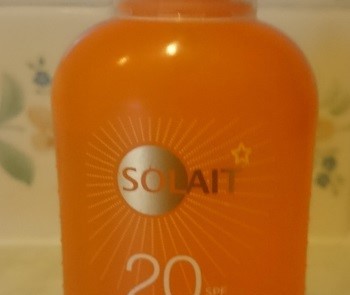 And, for those of you who like to tan naturally but also want to protect your skin from UV rays, I can thoroughly recommend Solait's new transparent sun spray. A quick-drying, lightweight mist that's not greasy when it goes on your skin, this sun protector spray is only £5.99 right now at Superdrug, reduced from £9.99 so grab it while you can.