Review: salon quality gel nails for a fraction of the price and at home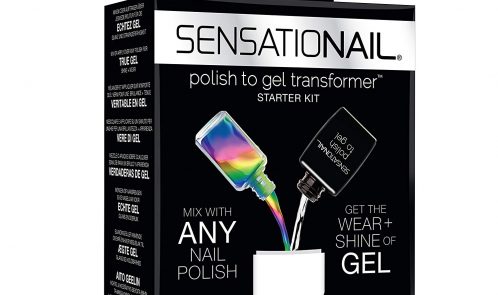 Gel nail manicures cost me between £10 and £34, with the £10 ones lasting barely a week typically, so I wanted a solution to having beautiful nails without paying the high cost. I have tried "gel" varnishes, "gel" top coats and frankly they don't look anywhere as good as proper gel cured under a LED lamp. So what's a girl to do? …spend close to £300 a year on nails or find another solution? decided to find another way and think I have found it with Polish to Gel Transformer Starter Kit from SensatioNail.
Basically, you can use it to turn your favourite nail varnishes into a gel manicure! By mixing your own polish with SensatioNail's Polish to Gel formula and curing under the UV lamp, SensatioNail promises to achieve the same results as using gel, which can last up to 10 days before showing signs of wear.
I asked for the kit for Christmas and tested it on my neighbour and myself. Both our nails are still unchipped since boxing day, that's a whole 12 days old. The only signs of it being that old are the fact that our nails are growing, so you can start to see the base of the nail near the cuticle a little.
There are two ways of using the kit, either mix with your own varnish or just paint over your varnish as a top coat and cure.
The end result is so smooth and shiny, and it lasts so much longer than regular nail polish, which is around 2-3 days before it starts to chip for me.
Following the step by step instructions which are very clear, I
Prepared nails with primer (supplied in kit)
Mixed 6 drops of my normal varnish with the transformer…I didn't use the pot, but instead made a foil pot, so that I could just throw it away, rather than clean out a tiny plastic pot
Put varnish on fingers
Cure
Put varnish on thumbs
Cure
Then wipe nails with gel cleanser – make sure nails are fully cured or colour may come off on the cloth
Then sit back and stare at my fab shiny nails.
Tips I would give include be patient and ensure you cure fully. If the nails feel tacky, cure a bit more. Ensure that you polish up the edges and push your cuticles back as far as you can otherwise you'll do what I did and paint over them. I used a dark blue on my neighbour and the images are day one, day 7 and day 12. This was the first time I had done gel nails at home and the result was pretty good, and I would say if you use a lighter polish the regrowth won't be as noticeable. I also failed to cap all nails, so the result is even better than expected.
The kit was free for me as it was a gift, but on Amazon it's £45.98, that's 2-4 manicures depending where you go.
If you want some new gel varnishes with no mixing necessary, you can always head to Superdrug as you can see the colours and they seem to be cheaper than Boots for the same products.
Personally, I have got so many varnishes already, I am happy to continue mixing them.
The images below show the results on day one, 7 and 12 on my neighbour's nails. We used a Leighton Denny nail varnish.