Real leather ankle boots from M&S for £39.50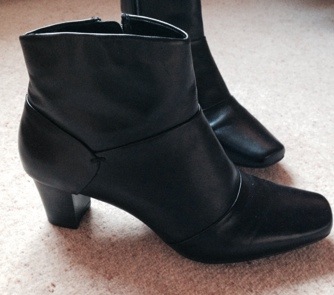 After my debacle with Clark's falling apart boots – on the way from a meeting my boot's heel came off – I needed a new pair of work boots.
Problem is we are now pretty much out of sale season and unless you want obscure stuff, like the £30 snow boots I got from Jones (down from £100) in March last year, most of the ordinary work boots in the sales are gone.
I needed to spend as little as possible, but wanted leather, a mid-height tough heel – not easily scuffable – nothing too plain, and they had to be comfortable, have good reviews and be available in my size.
I found some lovely wedges at Next for £38, but there's a three week delivery on my size. The rest of their boots were out of my price range.
I tried the cheaper shoe shops but couldn't get leather in a style I liked at a low price. I was looking at £70 – £160 for the ankle boots I liked in high street shoe shops.
I think the leather makes shoes more expensive, but synthetic leather-look shoes and boots are a bit of a false economy for footwear IMHO, especially for a pair of boots worn as often as mine. Synthetic footwear scuffs much more easily, doesn't mold to your feet and can look cheap quickly. Of course, I do have synthetic going out shoes, but wouldn't wear them for every day.
My quest has not been forlorn though. This week, I picked up these lovely boots from Marks and Spencer. They are called M&S Collection Leather Panelled Ankle Boots with Insolia. I bought them online, got 3.5% cash back from TopCashBack and had them delivered to store next day to avoid delivery cost.
For £39.50, I got leather boots, which feel great and look much more expensive than they are. They have this nice panelling which gives them some interest and a mid height heel.
They're made of a lovely soft leather and have Insolia inside. The Insolia made me want them even more as it claims to take away the discomfort of wearing heels. "There's less pressure on the front of your feet and more stability for your ankles."
They come in sizes 3-8, including half sizes.