Noir Caviar – an anti-ageing hair care revolution?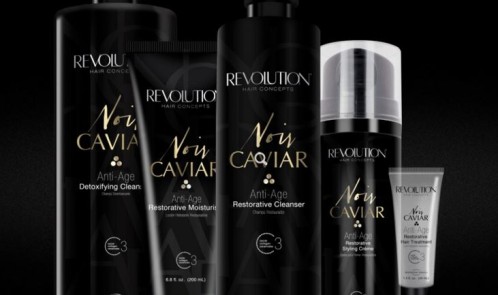 Like many women of my age group – fast approaching 40 – I have been stunned by the changes taking place not just on my face but with my hair. It's getting drier and thinner, you can even see my scalp sometimes, so I jumped at the chance to try out Revolution Hair Concepts' new anti-ageing hair care range – Noir Caviar. I have tried virtually all the imaginable thickening shampoos, so was ready to try this one.
The range includes products, such as a daily shampoo and conditioner, that aim to regenerates aged and lacklustre hair while giving it back its healthy look – and locks. Perfect I thought!
Noir Caviar's three step beauty regime for your hair combines the three C's:
1. Caviar- which has Vitamin D, A , E and B12 for antioxidant protection, sodium, potassium phosphorous, magnesium and calcium help to strengthen the hair fibre, and proteins, lipids and essential fatty acids to hydrate and restructure
2. Collagen – which strengthens the hair above and below the scalp adding vitality and bounce
3. Ceramides – which protect hair from chemical and heat damage, while also replenishing hair to make it shiny and manageable.
The range is priced at £13.50 for the restorative cleanser (250ml) and moisturiser (200ml) – separately, not combined – and £24.99 for the styling cream (150ml). Well it you are going to put caviar on your hair, it aint gonna be cheap.
I trialled the cleanser (aka shampoo) and moisturiser (aka conditioner) at home on ready-for-a-trim hair by washing it every other day for two weeks. My hair is fairly long so to really test it out I didn't want to use it every day and dry my hair out further or after a trim since I wanted to see if it made any dents in the dry ends I had – which is one of its selling points after all.
While the results are not 100% perfect – my hair still needs to be cut by a hairdresser to get rid of the split ends – it's in a far better condition than it was two weeks ago, before I started to use the Noir Caviar twin set.
The cleanser has a flip cap, making it easier to use in the shower, but the moisturiser is a screw cap, which is not as useful as a pump dispenser or flip cap when you're lathered up in the shower. As the name suggests, containing caviar (fish eggs!), I expected the cleanser and moisturiser to smell terrible, but both have a really nice, subtle, slightly orange scent that I loved. They both lathered up well so I recommend only using a small amount as more than a 50p size would be a waste – and they rinse off quickly with no heavy residue left behind at all.
My hair felt squeaky clean and lightweight after use so I an honestly say that I really loved both of these products and, although they are a little more than I would prefer to spend on a shampoo and conditioner, the fact that they both go a long way since you only need a small amount of each means that I will definitely be treating my lacklustre locks to this hair care range again.