New budget beauty brand – up the Makeup Revolution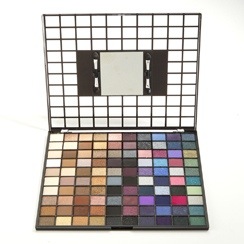 The 200 item Makeup Revolution range is now available at Superdrug online.
Priced at £1 – £12 per item, there is lots to choose from, including items for eyes, lips, face and nails.
My favourite products include some very pretty 12 shade eye palettes, which cost £4, which is awesome value compared to leading brands priced at over £30.
Makeup Revolution also has a £4 foundation in 16 shades to match different skin tones.
The most expensive item is a 100 colour eye shadow palette at £12, but the rest of the items are even cheaper. Here's a sample of products so you can get an idea of prices:
Amazing Lip Care – 5 shades, £3
Kajal Liner – 1 shade, £2
Amazing Eye Liner (liquid) – £1.50
Awesome Metal Eye Foils – 5 shades, £5
The One Foundation – 16 shades, £4
The Matte Effect Foundation – 8 shades, £2
Amazing Volume Mascara – 1 shade, £2
Amazing Lengthening Mascara – 1 shade, £1.50
Amazing Curling Mascara – 1 shade, £2
Nail Polish – 40 shades, £1
Delivery is free if you have the makeup delivered to store, or order over £10 and £3 for orders under £10. Of course, you also earn Superdrug loyalty points when you buy. I asked in store today and they didn't know if the product was going to be a available offline.
And here are some of the goodies. I've ordered some lipsticks, and can't wait to get them. Please let me know what you think too.