MayBeauty Incredible Face Mask review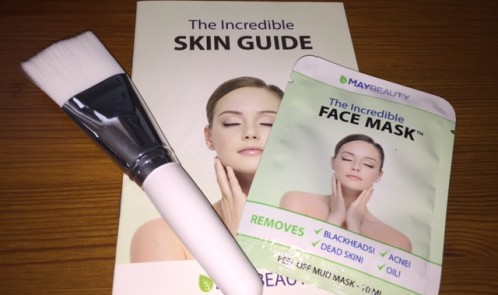 Skincare is super important to me…ask my family, they would even say I am a little obsessed. I use cleansing balm, serum, moisturiser and sun block on a daily basis, and regularly partake in facials. So when MayBeauty got in touch to offer their Incredible Face Mask, I jumped at the chance to try it out.
As I got five face masks, I decided to have a beauty party!  Between us we have very different skin:
1. One male that uses no beauty products
2. Oily skin lady in her 50s
3. Combination skin lady in her 50s
4. Dry skin lady in her 40s
5. Dry skin lady in her 30s
I figured that we would all go through the same process and see whether wearing an odd black face mask would make a difference.
So in the pack you get a sachet of black sea mud and a rather nice white brush.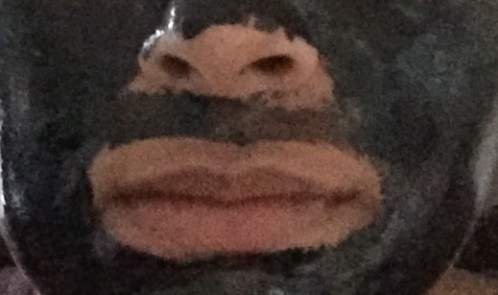 You start off by putting the black tarry substance (mud) over your face. You have to do this with the brush provided or else, it's super messy. It glides on and then you leave it to set for 30 – 45 minutes. Ideally, you are not doing anything that involves you moving as the face mask sets hard.
Once the time is up, you move your mouth and the mask "cracks". This is when you slowly peel it off. It stings a bit where you have hair but that's not an issue for ladies that wax, laser etc….even the man in our midst didn't complain.
I asked for specific feedback from each of the willing participants:
1. One male that uses no beauty products – got the best results…seriously his black heads disappeared and his forehead looked very clean as the dead skin that leaves it dull was gone.
2. Oily skin lady in her 50s – my guinea pig has really oily skin so was a bit worried about the masks making her skin even more greasy afterwards. But, she was really impressed with the results and we think they've taken years off of her as she now has such a fresh-faced look.She is ready to buy some more as it is "cheaper than a facial".
3. Combination skin lady in her 50s – "I think it's made a difference as my skin is smoother".
4. Dry skin lady in her 40s – "skin feels so smooth and it's great to get the gunk out".
5. Dry skin lady in her 30s – "I agree that the mask is hard to pull off after the 40 mins "setting" time is up, but my skin looks lovely and fresh today, so it's totally worth the effort. I have combination skin – really dry forehead and chin but oily cheeks and nose – and this wasn't a problem for the face masks at all as, after use, all of my skin felt soft and moisturised, not dry or greasy. My only complaint is that I now have a wee spot coming up on my nose the day after using the mask so I would recommend using them 3 – 4 days before a big event or occasion."
For less than £5 per mask, we think these are really worth it as they give you all of the benefits that you normally get from a beautician giving you a facial, but for far less.
Here's the science bit:
The main ingredient is deep sea mud. Excipients: Triethanolamine, carbomer, glycerin, polyvingl alcohol, sodium alganite, ethyl alcohol, liquid germal plus (alcohol which makes the mask liquid and then dry in contact with air).
I did look around for other deep sea mud masks, but they are all "wet" and I like the peel off masks. You can even see the gunk that sticks to the mask if you are so inclined.
At the moment, they are offering 5 packs, a brush and a fab skin guide that gives handy tips on keeping your skin beautiful, all for £19…and what's even better if you follow this link you will get an extra 30% off!