MakeUp Revolution now in Superdrug – list of stores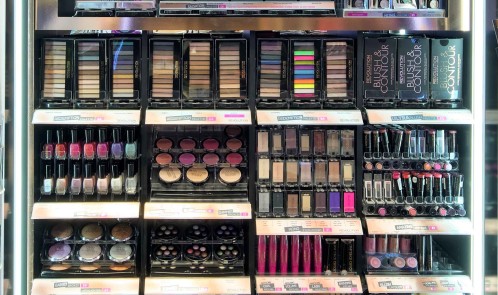 At last, Superdrug has started to roll out MakeUp Revolution in its stores. You can already buy their products online, but sometimes it's just better to see things in real life.
As you may know I am a fan of this budget beauty range. Items start from £1 and go up to a staggering £12. They have some great items, and some that are decent dupes for the more premium brands.
These are the stores that have MakeUp Revolution right now, but more are being added so if your town isn't on there, check out MakeUp Revolution's Facebook page.
BARNSLEY 498
24-32 CHEAPSIDE, BARNSLEY, S70 1RR
BASINGSTOKE 918
10-13 HAMSTEAD HOUSE THE WALKS SHOP CTR, BASINGSTOKE, RG21 7LG
BERWICKWY WALTHSTOW 307
6 BERWICK WAY SELBOURNE WALK, SHOPPING CENTRE WALTHAMSTOW, LONDON  E17 7JR
BILLERICAY 245
86 HIGH STREET, BILLERICAY, ESSEX  CM12 9BT
BOLTON 141
40/42/44 DEANSGATE, BOLTON, LANCASHIRE BL1  1BG
BON ACCORD ABERDEEN 541
UNIT 39 BON ACCORD CENTRE, ABERDEEN, SCOTLAND  AB25 1HZ
BOURNEMOUTH 651
5/7/9 COMMERCIAL ROAD, BOURNEMOUTH, DORSET BH2 5RH
BULLRING BIRMINGHAM 994
SU329 LEVEL 03, THE NEW BULLRING, BIRMINGHAM B5 4BA
BUXTON 192
11-12 SPRING GARDEN CENTRE, BUXTON, DERBYSHIRE SK17 6BJ
CHAPELFIELDS NORWICH 277
237 MERCHANTS HALL(MSU 12/12A), UPPER GROUND, CHAPELFIELD, NORWICH NR2 1SU
CHELMSFORD 851
UNIT 2 15/19 HIGH STREET, CHELMSFORD, ESSEX CM1 1BE
CHESTER 522
32-34 NORTHGATE STREET, CHESTER, CH1 2HA
CHESTERFIELD 847
2-4 VICAR LANE, CHESTERFIELD, DERBYSHIRE S40 1PY
CLAPHAM JUNCTION STN 879
6/6A THE JUNCTION CENTRE, ST JOHNS HILL, CLAPHAM SW11 1SA
CORPORATION ST B HAM 763
VICTORIA HOUSE – 22 UNION STREET, BIRMINGHAM, B2 4SW
CRIBBS CAUSEWAY 848
40 THE MALL, CRIBBS CAUSEWAY  PATCH WAY, BRISTOL BS34 5GG
CRYSTAL PEAKS SHEFF 608
UNITS 12/13 CRYSTAL PEAKS SHOPPING CTR, SHEFFIELD, S20 7PQ
CWMBRAN 259
16 GWENT SQUARE, CWMBRAN, GWENT NP44 1PW
DERBY 926
21 ALBION STREET, DERBY, DE1 2PR
EALING 7
UNITS 18/19 BROADWAY SHOPPING CENTRE, EALING, W5 5JY
EASTGATE CTR 264
UNIT 10 EASTGATE SHOPPING CENTRE, BASILDON, ESSEX SS14 1JJ
EDEN CENTRE 1169
19 NEWLAND STREET, EDEN, HIGH WYCOMBE, BUCKS HP11 2BY
EDGWARE 567
UNIT 24 BROADWALK SHOP CTR STATION ROAD, EDGWARE, MIDDLESEX, HA8 7BD
ELTHAM 182
142 HIGH STREET, ELTHAM, LONDON  SE9 1BJ
GATESHEAD 319
UNIT 68 CAMERON WALK, THE METRO CENTRE, GATESHEAD, NE11 9YR
GLASGOW FORT 1332
UNIT 11A GLASGOW FORT SHOPPING CENTRE, GLASGOW, G34 9DL
GREAT YARMOUTH 1321
Units 4/6 Market Gates Shopping Centre, Great Yarmouth, NR30 2AX
HANLEY 438
THE POTTERIES CENTRE, HANLEY, STOKE ON TRENT, ST1 1PS
HARLEQUIN (WATFORD) 730
UNIT 153 THE HARLEQUIN SHOPPING CENTRE, WATFORD, WD1 2TE
HARLOW FC 131
UNIT 19 HARVEY CENTRE, HARLOW, ESSEX CM20 1XW
HARRINGAY 1012
UNIT 5A THE ARENA SHOPPING PARK, GREEN LANES, HARRINGAY, LONDON N4 1ED
HARROW 593
297/301 STATION ROAD, HARROW, MIDDLESEX   HA1 2TA
HEMEL HEMPSTEAD 939
184-186 THE MARLOWES & 2 FAREHAM HOUSE, HEMEL HEMPSTEAD, HERTS  HP1 1BJ
HOUNSLOW 858
UNITS 1-4, TRINITY PARADE  HIGH STREET, HOUNSLOW TW3 1HG
KILBURN 12
80/84 HIGH ROAD, KILBURN, LONDON  NW6 4HS
LUTON 849
69-73 THE ARNDALE CENTRE, LUTON, BEDFORSHIRE LU1 2TJ
MARBLE ARCH 989
508-520 OXFORD STREET, LONDON, W1C 1NB
MERRY HILL 315
UNIT 78 MERRY HILL, BRIERLEY HILL, WEST MID DY5 1SY
NORWICH 603
12 ST STEPHENS STREET, NORWICH, NORFOLK NR1 3SA
NOTTINGHAM VICTORIA 1061
122/123 (UNIT 29), THE VICTORIA SHOPPING CENTRE, NOTTINGHAM NG1 3QD
NUNEATON 88
9/10 MARKET PLACE, NUNEATON, WARWICKSHIRE CV11
PADDINGTON 1000
UNITS 4 & 5 WEST END QUAYS, 2 PRAED STREET, PADDINGTON, LONDON W2 1JB
PALACE EXCHANGE 1034
UNITS 14 & 15 PALACE EXCHANGE, ENFIELD, MIDDLESEX EN2 6BS
PENNY LANE 695
KWIK SAVE RETAIL PARK, CHURCH ROAD, LIVERPOOL, L15 9EB
POOLE 650
144/146 HIGH STREET, POOLE, DORSET BH15 1DN
PRINCES ST EDINBURGH 8
83 PRINCES STREET, EDINBURGH, EH2 2ER
QUEENS WEST CARDIFF 777
1,2 & 7 QUEENS WEST QUEENS STREET, CARDIFF, CARDIFF  CF10 2AQ
REDDITCH 325
43 EVESHAM WALK, KINGFISHER CENTRE,, REDDITCH, WORCESTER B97 4EX
ROMSEY 642
10 THE HUNDRED, ROMSEY, HAMPSHIRE SO51 8BW
SHREWSBURY 181
29/30/30A PRIDE HILL, SHREWSBURY, SHROPSHIRE SY1 1DP
SLOUGH 27
UNIT 82 THE MALL, QUEENSMERE CENTRE, SLOUGH, BERKS SL1 1DG
ST DAVIDS  CARDIFF 1331
Unit LG 43-44 33 Grande Arcade, Cardiff, CF10 2ER
STEVENAGE 294
39/41 QUEENSWAY, STEVENAGE, HERTS SG1 1DN
STOCKPORT 553
UNIT 2 15/27, 15/27 MERSEYWAY SHOPPING CNTR, STOCKPORT SK1 1QW
SWINDON 180
41-43 THE PARADE, SWINDON, WILTSHIRE SN1 1BB
TAUNTON 869
1-10 PAUL STREET & 9 CHEAPSIDE, TAUNTON, SOMERSET  TA1 3PF
TELFORD 698
12-13 DEAN STREET, THE TELFORD CENTRE, TELFORD, SHROPS  TF3 4BT
THE GLADES BROMLEY 852
67 THE GLADES SHOPPING CENTRE, BROMLEY, KENT  BR1 1DD
THE STRAND 547
49/50 STRAND, LONDON, WC2N 5LL
THURROCK 454
107-108 LAKESIDE SHOPPING CENTRE, WEST THURROCK, GRAYS, ESSEX, RM20 2ZG
TRINITY (ABERDEEN) 548
UNIT 13 THE TRINITY CENTRE, ABERDEEN, SCOTLAND  AB11 6BE
TROWBRIDGE 483
UNIT 28  THE SHIRES, TROWBRIDGE, WILTSHIRE  BA14 8AT
TUNBRIDGE WELLS 659
26-28 CALVERLEY ROAD, TUNBRIDGE WELLS, KENT  TN1 2TB
UXBRIDGE 948
159/161 HIGH STREET, UXBRIDGE, MIDDX UB8 1JY
WALSALL 874
UNITS 1/2 TOWN WHARF – 59/61 PARK STREET, WALSALL, WS1 1LY
WEYMOUTH NEW BOND ST 990
UNIT 8  NEW BOND STREET, WEYMOUTH, DT4 8LY
WHITGIFT CROYDON 666
UNITS 2,3 & 5 WOOLWORTH DEV WHITGIFT CTR, CROYDON, SURREY, CR0 1US
WOOD GREEN 728
UNITS 4/5 89/96 HIGH ROAD, WOOD GREEN, LONDON N22 6BB
WOOLWICH 55
14/16 18/20 POWIS STREET, WOOLWICH, LONDON   SE18 6LF
WORTHING 512
44/46 MONTAGUE STREET, WORTHING, WEST SUSSEX BN11 3HE
YEOVIL 147
15 HIGH STREET, YEOVIL, SOMERSET BA20 1RQ
YORK 280
17 MARKET STREET, YORK, YO1 8SL