Giveaway – three months supply of anti-aging Nourella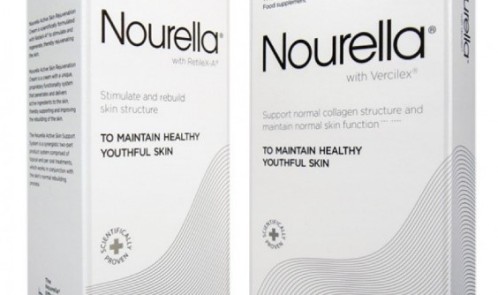 I am really liking January, and I hope you're enjoying my special giveaways. I'm very excited about this next offer as there are going to be 25 lucky winners – yay!
Don't let ageing skin get you down! Nourella® Active Skin Support System is on hand to help knock 20 years off your appearance!
The ageing process not only affects a woman's looks but can also have a damaging effect on a woman's self-esteem, and that's not something we want for Mrs Bargain Hunter's readers!
The degradation of collagen and elastin are common occurrences we know all too well, but it's not only the natural ageing processes which can affect your skin. The environment we live in, stress, and UV exposure can all contribute to the ageing process.
Backed by 28 years of development, Nourella is an effective and innovative approach to skin rejuvenation. Its unique dual approach to anti-ageing combines a topical cream alongside food supplement tablets, which work together to reverse the symptoms of Accelerated Skin Ageing. Nourella normalises skin thickness and elasticity, stabilises skin density and regains skin moisture to create a youthful radiance.
Nourella has teamed up with Mrs Bargain Hunter to provide 25 bundles of Nourella for 25 lucky ladies, currently on sale for £39.99!!! Each bundle contains a three month supply of Nourella Active Skin Cream along with a 3 month supply of Nourella food supplements, to give you that youthful glow you've been waiting for.
How to enter
Good luck!