Aldi's new spray on moisturiser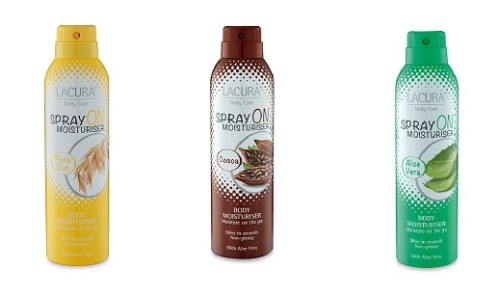 I'm an okay fan of Aldi's Lacura skincare products…like their serum brought me out in spots so it's a no from me, but their Caviar Illumincation Day Cream costs just £6.99 for 50 ml and is "nearly" as good as La Prarie Skin Caviar Luxe at £292! Today's find for a body moisturiser is really good.
The Laucura spray on moisturiser – just shake up the bottle and thinly spray on…it goes on like a foam…be careful to spray somewhere like the bathroom as until you get used to it, you may end up spraying on other things.
It comes in three flavours pure oatmeal, aloe vera (with argan oil) and cocoa. It's 200 ml for £1.99 per bottle. I agree with the packaging that it moisturises your skin and leaves it soft and silky with no greasiness – if you don't overspray…takes a few goes to get it right!  Oh and it does dry really quickly.
Features
Non greasy
Continuous spray
Dries in seconds