Aldi make up and skincare Special buy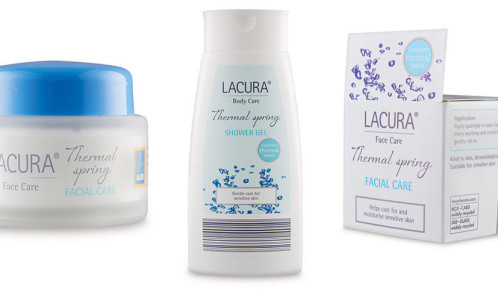 From today, there is a new Thermal Spring skin care range and bargain makeup products.
Can't afford a spa, well the new Lacura Thermal Spring Body Care Body Lotion and Shower Gel (£1.99) contain valuable thermal water and special nutrients to leave your skin feeling refreshed and relaxed. Dexpanthenol and lipids help to reduce tightness and soothe stressed skin, leaving it feeling soft and restored.
The dermatologically approved Lacura Thermal Spring Face Care (£1.99) including Face Cream and Eye Cream for hypersensitive skin, contains Thermal water, shea butter, panthenol and hyaluron to moisturise and effectively care for sensitive skin. The eye cream moisturises the thin skin around the eyes and is also suitable for sensitive and delicate skin. Both creams are gentle to skin and contain no parabens or colourants.
Aldi's popular Lacura Face Treatment Oils (£3.99) will also return to Aldi in April. Available for dry and sensitive skin types, these nourishing oils restore your natural radiance to reveal a healthy, happy complexion. Treat skin to an at-home facial by massaging the oil into clean skin, or add a couple of drops to your favourite moisturiser.
Continue your pamper regime and renew moisture levels with Aldi's luxurious Body Cream (£1.29). Be beautiful with Classic, containing Beeswax and Jojoba Oil for dry skin, and Soft with Vitamin E and Jojoba Oil for normal skin.
Bargain makeup
As well as the nice spa type treatmenet range, Aldi's range of purse-friendly makeup products are back for 2016.
Brand new for 2016, the Lacura Glossy Lip Balms (£1.99) are packed full of moisturising ingredients including almond oil, shea butter, jojoba oil and vitamin E. These handy sticks help to soothe chapped lips, leaving them feeling smooth and glossy with a natural tint of colour. Choose from Red, Peach or Fresh Pink.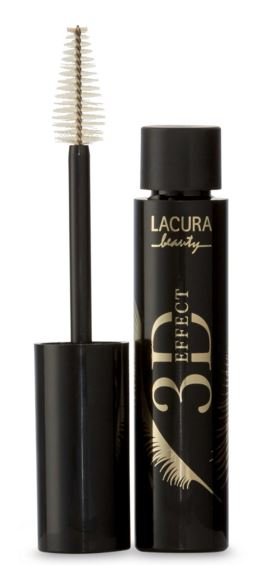 Value eyeliners are available in Emerald, Black and Smoke £1.99. The handy blending sponge can be used to help perfect a 'smokey' look. And for the ladies who need a boost in the eyebrow department, The Lacura eyebrow pencils come in two shades: Blonde and Brunette and can create a bold or subtle brow for £1.99. The pencils both come with an easy to use shaping brush which is perfect for taming and shaping the brows before filling them with the pencil.
Aldi has a great range of mascaras that are ideal to add volume, fullness and length to eyelashes, all priced at £2.39. For a thick and dramatic look, use the Lacura 3D-Effect Mascara. The brush on is specially adapted to the mascara's texture, making sure that every lash is captured by the wand. This mascara will add curve, fullness and length to lashes, leaving you with a three-dimensional and eye-catching look!
For voluminous and irresistible eyelashes, try the Lacura Volume Sensational Mascara. Aldi says that the brush reaches every lash creating sensational volume, optimal sweeping and breath-taking length. The soft, creamy texture of the mascara ensures lashes are perfectly separated, without clumping.
The affordable combination cream, Lacura CC Cream (£3.99) corrects skin tone, provides UV protection along with a light, foundation-quality coverage. Containing Crodarom Porcelain Flower, a plant extract that cares for skin, this cream leaves skin looking radiant and supple. Vitamin B3 protects moisture loss and improves elasticity to minimise redness and reduce the appearance of wrinkles whilst Provitamin B5 provides skin with much-needed moisture throughout the day. Available in light and medium shades.