£100 off mens suit at House of Fraser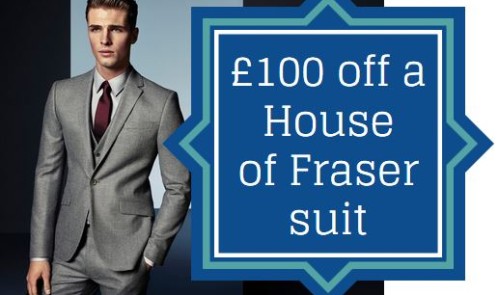 Does your man need a new suit and have House of Fraser on the list of shops to consider? Well bring in an old suit (jacket and trousers in good condition and suitable to wear to a job interview) and House of Fraser will give you a £100 voucher to spend in store on a new suit.
Men of the UK are being asked to surrender their old suits for a good cause. Whether they are a little tighter than they used to be or it's just time for an upgrade, men can donate their unwanted threads at House of Fraser stores as part of the Suited & Booted campaign. The donated suits will go to vulnerable men, kitting them out in style for job interviews, while customers will snap up a £100 voucher to spend in store.
Running from until the 13th of September across all 58 of House of Fraser's formalwear stores, the campaign is launched by suiting business Berwin & Berwin, in partnership with London-based charity Suited & Booted, who work with disadvantaged and unemployed men to provide clothing for interviews.
What a great cause I say – Suited & Booted at House of Fraser are aiming to give vulnerable and low-income men the confidence and self-esteem they need to succeed in a job interview and into permanent employment.
So being in your old, clean suits, shirts, ties and shoes to designated clothes bins. In return you can get £100 off a wardrobe upgrade, with a £100 voucher to spend on your next new suit purchase, which is redeemable on all House of Fraser's formalwear brands.
The Suited & Booted campaign at House of Fraser runs from now until 13th September at all 58 formalwear stores, including outlets. The £100 voucher is redeemable on all full price suits and must be used in store (not redeemable online).
The picture in my featured image is the property of House of Fraser and is used with their permission.