The caviar of cat food aint cheap!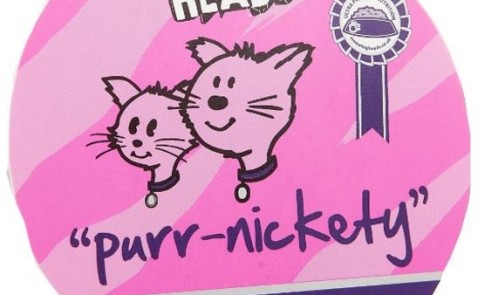 I watched a friend's cats for a couple of weeks, so it made me think about trying some new things…all with the owners permission via Skype of course.
She always complains about the cost of cat food, but likes to give them luxury brands like Gourmet and Sheba as a treat. I was sent some Meowing Heads "Purr-nickety" and it's not cheap. Starting from £6.50 up to £8 for 8 x 85 gram pods, this wet cat food costs a lot more than its closest rival – Gourmet – it's double the price. The next 'luxury' brand along is Sheba. You can pick up an 18 pack of 85 g pods for the same price as the 8 x Meowing Heads.
But quality costs, I guess, as the kittys LOVED this premium, luxury brand cat food. And why? Well it sounds good enough for my dinner. It's gently steamed and has over 60 per cent fresh fish and meat in every pod. With ingredients such as boneless salmon, dried fish and chicken, rice, chicken fat and oats plus vegetable fibre, to help prevent hairballs, it sounds like an amazing food for anyone who wants to feed their cat very well, while providing a healthy, balanced  food including all of the essential nutrients needed to keep them energetic and alert, and to take good care pf their coats.
However, for many, even those of us working full time, even though my kitty friends absolutely lapped up the Meowing Heads cat food, unfortunately the overall price is simply not realistic for my friend to buy on a daily – nae weekly – basis. I think when they come to stay I may get them some and their owner says that definitely it's a treat item, maybe for a birthday.
It would be nice if Meowing Heads considered reducing its price, but then again quality costs.