Avoid paying higher call charges for 084/087/09 numbers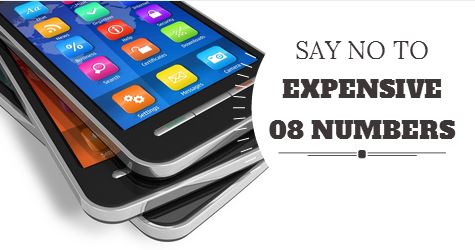 This month the new Consumer Rights Directive will end expensive premium 084 and 087 numbers for customers calling airlines, train operators and major high street and online retailers, but his still leaves a lot of organisations and companies where customer services, general enquiries and ordering still mean dialling into a premium rate number.
So if you want to avoid paying up to 16p a minute for dialling these numbers, hop along to Saynoto0870. This is an online directory of non-geographic telephone numbers and their geographic alternatives.
The website, which started as a directory of alternative to 0870 numbers (hence the name), also lists geographic alternatives for 0843, 0844, 0845, 0871, 0872, and 0873 numbers, as well as for some 0500, 0800 and 0808 freephone numbers.
Let me give you an example. I wanted to talk to the Land Registry and their number was an 0844 number. After my experience of calling an 0844 number and being charged £5 for an hour long call, I avoid these numbers like crazy. Anyway, by typing in Land Registry (or the offending number) I found an 0274 number on saynoto0870 and called it. The people there just put me through to the same team as I would have reached if I had dialled the 0844 number.
What is a non-geographic number
So a non-geographic number begins 084, 087 and 09. The numbers, when dialled, automatically impose a Service Charge on all callers – apart from 0870 numbers as a successful campaign stopped this in 2009. Calls to 01, 02 and 03 numbers, standard 07 mobile numbers and 080 numbers do not attract the additional charge.
Non-geographic telephone numbers beginning 084 and 087 have increasingly been employed for bookings, renewals, refunds, cancellations, customer services and complaints, and for contacting public services including essential health services. That's why the crack-down has happened.
Which numbers cost more?
While your telephone package may include free 'inclusive' calls of up to one hour to standard telephone numbers (beginning with 01, 02 or 03), calls to 0843, 0844, 0845, (0870 not so much after 2009), 0871, 0872 and 0873 telephone numbers are usually chargeable.
Mobile telephones on a contract offer minutes that include free 'inclusive' calls to standard telephone numbers, however calls to 084 and 087 telephone numbers are always chargeable. Calls to most 084 and 087 non-geographic telephone numbers are generally not included in bundled minutes from landlines and even less so from mobile telephones. However, a small number of landline providers do include 0870 and a smaller number include 0845 telephone numbers in some of their call packages.
Calls to 084 and 087 non-geographic telephone numbers have a higher charge if called from a mobile telephone, than if called from a landline, making the call price from mobile telephones excessive.
Calls to freephone numbers (0500, 0800 and 0808) are not included in most mobile telephone contract inclusive minutes and are also chargeable when called from most pay-as-you-go mobile telephones.
Thanks to Wikipedia for some of these lovely facts.