Running gear at ALDI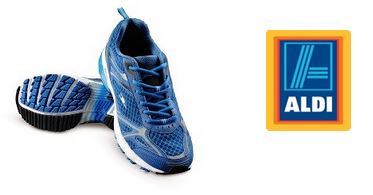 With the sun out, there really isn't much excuse not to get out there and walk or even run. Aldi Specialbuys Running range is now in stores and available while stocks last.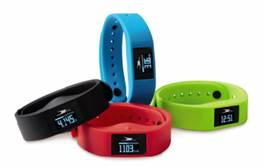 I have a Fitbit which was a gift and cost close to £70, so am very pleased to see Aldi's Activity Tracker. Keep track of your fitness efforts with the multifunctional wristband. Measures daily activity, time, steps and more. Available in four colours, activity trackable on a smart phone and loads of functions for £29.99.
Aldi's Bluetooth Heart Rate Monitor (£24.99) is chest strap that cleverly measuring heart rate, pace and distance with automatic synchronisation, when running via a smartphone. To follow, you can use Aldi's Bluetooth Diagnostic Scale (£34.99) for keeping track of your weight post workout. Batteries included, this gadget measures an impressive 8 body-based evaluations.
Take to the pavement with Aldi's Premium Running Shoes (£19.99). Built to include heeled cushioning, a rubber outsole and padded tongue, they'll help you run faster and further. Or if you are an aspiring runner, try Aldi's Running Shoes (£14.99), they're perfect beginners.
If you're a night owl, pull on Aldi's Running Jacket (£15.99) to retain body heat in the evening breeze. Alongside a hood and side pockets, this quality jacket also features reflective print for greater visibility. Match with Aldi's Running Trousers (£9.99) for added warmth once the sun goes down.
Be seen dusk or dawn in Aldi's Ultra Bright Summer Running T-Shirt (£5.99), complete with a convenient clip (audio portal) to keep wires out of the way whilst you run.  Though don't forget to shield your eyes with Aldi's Polarised Sunglasses (£3.99), which boast a 100% UV protection for the brighter days.
Aldi Specialbuys running range offers excellent value without compromising on quality. Also included is a Bluetooth Blood Pressure Monitor (£34.99) and Short Sleeve Compression T-Shirt (£11.99) but you best be quick off the mark as they're in stores now, and once they're gone, they're gone!
Here are some details of more of the products in the range:
| | |
| --- | --- |
| Bluetooth Blood Pressure Monitor |                                  £39.99 |
| Bluetooth Diagnostic Scale | £34.99 |
| Bluetooth Heart Rate Monitor | £24.99 |
| Premium Running Shoes | £19.99 |
| Men's/Ladies' Running Jacket | £15.99 |
| Men's Running Shoes | £14.99 |
| Ladies' Running Shoes | £14.99 |
| Lightweight Running Gilet | £12.99 |
| Short Sleeve Compression T-Shirt | £11.99 |
| Ladies' Skapri | £9.99 |
| Men's/Ladies' Running Trousers | £9.99 |
| Men's/Ladies' Running T-Shirt | £7.99 |
| Men's/Ladies' Running Shorts | £5.99 |
| Ladies Running Seamless T-Shirt/Tank | £5.99 |
| Ultra Bright Summer T-Shirt | £5.99 |
| 3 Pack Running Trainer Socks | £3.99 |
| Polarised Sunglasses | £3.99 |
| Mid Compression Running Socks | £3.99 |
| Ergonomic Running Socks | £2.99 |
| Coolmax Gel Insoles | £1.99 |