Protect yourself legally when making extra money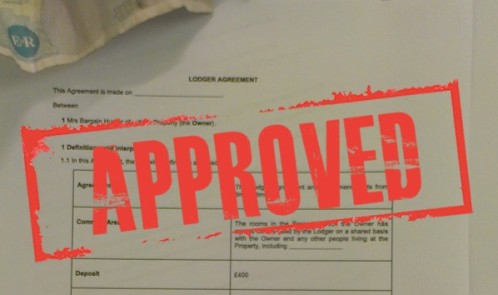 It's that time of year again when money is tight and time is sparse and there's only so much we can squeeze out of our income, so why not turn to other ways of making a bit of extra cash.
But beware, if you are renting your car parking space, working from home or taking in a lodger, you still need to protect yourself and one way is to draw up some legal documents to cover you in case of a misunderstanding later on.
There's an online firm legal firm called Rocket Lawyer and they have stacks of legal documents to download. The first document is free and there's a three day trial where you can take a look at other documents, so it's worth a search around on their site.
Here are some ideas on how you can make some extra money and tips on what you need to consider legally.
Rent out your car parking space
Renting out your parking space can be a good way of raising some extra cash. You can advertise your parking space for free on Gumtree, or there are websites that will manage the advertising and rental for you for a price. It's best to put things in writing from the start by creating a car parking licence so that everyone is clear on where they stand. The license helps you to formalise the arrangement and be sure of getting the space back when you want to and it covers everything from the fee to your and the licensee's responsibilities and indemnity for all claims arising from the use of the space.
Mrs BH says: As I rent out my space on an ad-hoc basis, I use parkatmyhouse to take care of all the legals, but for that privilege, they take a fee. If you want all the money to yourself and have a long term car park space renter, a legal agreement drawn up directly is probably more profitable.
Take in a lodger
If you have a spare bedroom, take advantage of the government's 'Rent a Room' scheme which allows you to earn £4,250 a year tax-free. As long as you get the details right, a lodger can be a tax efficient way to raise some extra cash and give yourself a bit of company. A lodger agreement covers the rent, deposit and responsibilities on each side, as well as ensuring you can easily get the room back or have a lodger leave when you need to.
Turn your spare room into an office
If you work from home you can formalise the arrangement by creating a home office space contract for yourself, so you can claim back the overheads in running the business for tax purposes. Such contracts cover the fee payable for the space, the rights given to the user as well as termination details so you can get your space or room back when you need it.
Rent your property as a holiday home
If you're going to be away from home for a while, why not rent out your home for the duration you'll be away? Not only will you be earning a bit of extra money, it also means your house won't be sitting empty – ideal burglar bait. Make sure you have a holiday letting agreement in place beforehand though to protect yourself as well as your tenant. This agreement makes it simpler and quicker to remove guests who refuse to leave or cause damage to your property. It also lays out payment terms and highlights both your obligations and your guest's rights.
All relevant legal documents can be created on Rocket Lawyer. Your first document is free but there is also a three day free trial in which you can create as many documents as you wish. Membership then costs £25 per month and includes unlimited legal documents, 30 minute free consultation with lawyers and up to 33% off additional legal fees.
Thanks to Mark Edwards, from Rocket Lawyer, the online legal service with easy-to-use legal documents and affordable access to specialist lawyers, for this information.